10 Healthy Romantic Food Ideas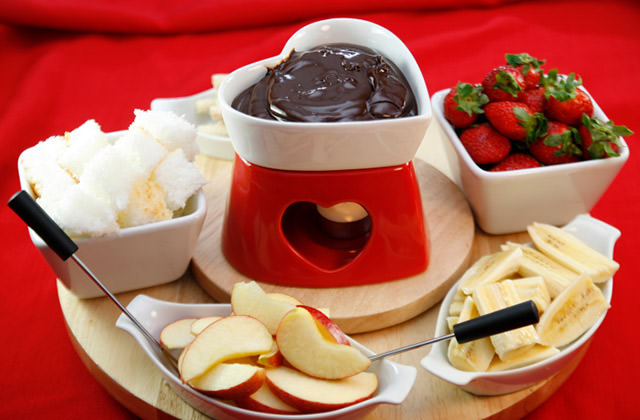 Impress your V-Day date with a special, heart-friendly home-made meal and celebrate the most romantic day of the year in the comfort of your own home. Instead of spending loads of money in a crowded restaurant, get creative in the kitchen and surprise your significant other with a meal they will never forget.
We've made a list of 10 healthy, mouthwatering food ideas that will definitely stir up romance on Valentine's Day. Feel free to experiment and let us know how your S.O. enjoyed these exceptional foods. Happy Valentine's Day!
1. Chocolate Fondue
Valentine's Day would lose much of its charm if we decided not to indulge in candy, cakes and chocolate. However, we don't need to buy expensive treats when we can make delicious and affordable desserts on our own.
Chocolate fondue is the perfect way to tell that special someone that you love them, without harming their health and adding unwanted inches to their waistline. Instead of buying a box of chocolate opt for the tasty, diet-friendly chocolate fondue with cut-up fresh fruits. If you really want a healthy dessert, combine heavy whipping cream and dark chocolate or cocoa for a rich dessert that goes perfectly with any kind of fruits.
Since the options are limitless, you have a chance to genuinely express your kitchen creativity and impress your significant other. We recommend including strawberries as the bright-red, heart-shaped berries are a popular aphrodisiac.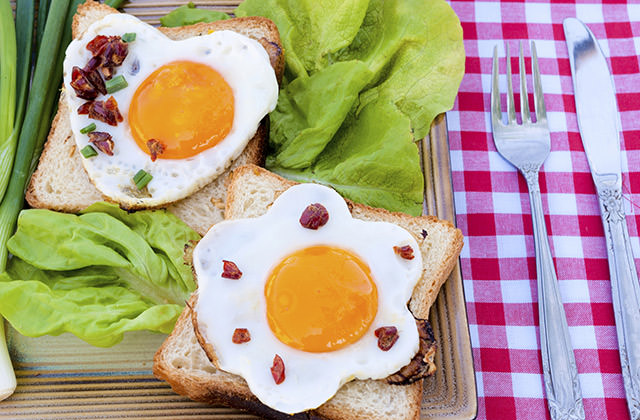 2. Valentine's Day Egg In The Basket
Although most people plan romantic, candle-lit dinners in fancy restaurants or in the privacy of their own homes for February 14, you can make your Valentine's day even more special if you and your partner begin the day with a classic, love-inspired breakfast.
The best part of it all is that you don't have to get up at the crack of dawn and buy ingredients which you can't even pronounce. Since February is the month of heart-shaped foods, you just need to add an element of romance to one of the world's most favorite breakfasts – eggs in a basket.
This holiday-themed version will certainly put a smile on your partner's face, even if you don't have a talent in cooking. Don't worry if your first attempt doesn't look like the fabulous photos from the Internet – it's the thought that counts. Besides, you can always start practicing before Valentine's Day and perfect the art of making heart-shaped eggs in a basket.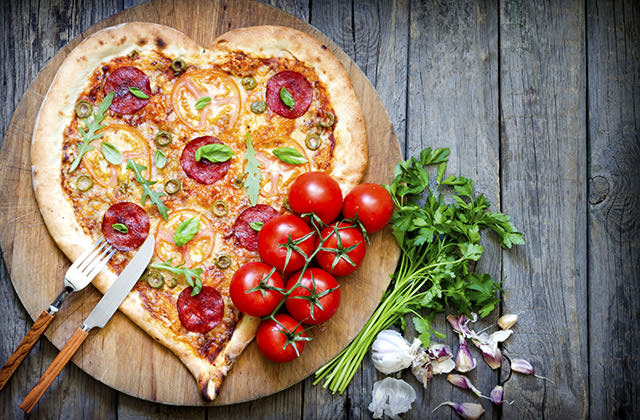 3. Heart-Shaped Mini Pizzas
Like we already said, if we had to draw February, it would be in the shape of a heart. Everything revolves around one of the world's most popular holidays, including food.
Since we wanted to keep romantic food ideas simple, easy to make and affordable, pizza simply had to be on our list. But not just any pizza – miniature whole-wheat heart-shaped pizzas.
We all know that commercial pizza is not healthy, but the ingredients of the home-made version are all up to you. Keep your meal low in saturated fat and loaded with veggies, and you won't make a mistake. If you like to experiment with food, you can even use fruits as pizza toppings.
Those of you who are artistic souls can even draw on the pizzas or write love notes – the possibilities are infinite. Just use your imagination and surprise your significant other with a meal they will never forget.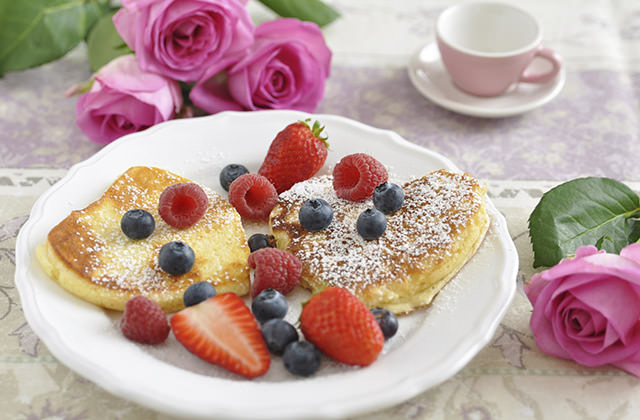 4. Heart-Shaped Pancakes
You can't go wrong with pancakes. Especially when they are heart-shaped and drizzled in strawberry syrup. You can either wish your significant other a good morning with these pancakes, or you can serve them as a wonderful dessert.
What makes these pancakes so awesome is the fact that everyone adores them, kids included. So, if you're spending V-Day with your family, pancakes are the ideal way to celebrate the holiday.
Besides, your kids will also enjoy helping you prepare them. Win-win. Apart from being inexpensive, whole-wheat pancakes are healthy and delicious. And nothing says 'I love you' more quite like fluffy pancakes in the shape of a heart. If you want to add a personal touch, let your imagination run wild.
You can either serve them in a special way or use the syrup as a writing tool and express your love on the pancakes. No more heart-shaped foods. We promise.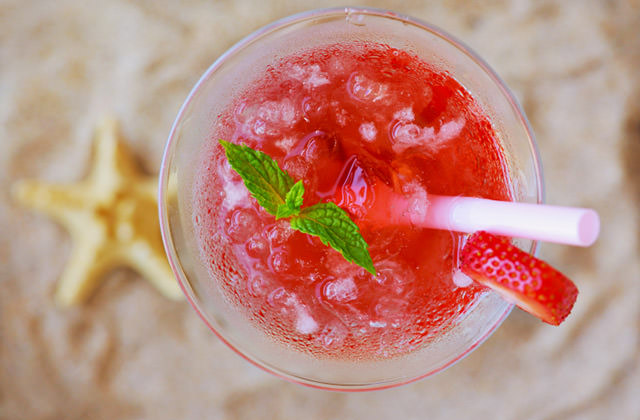 5. Blood Orange Margaritas
Although a lot of people opt for red wine or champagne for Valentine's Day, why not try something different? We can assure you that the Blood Orange Margarita is the best Margarita you will ever try and it will leave you craving for more. You don't have to be in the tropes to feel like you're soaking up the sun on a wonderful beach in the place of your dreams.
Besides, you have your significant other next to you and you have a lot to be thankful for this Valentine's Day.
Chef Dean Fearing, who invented this brightly flavored cocktail made with fresh blood oranges, limes, agave nectar, vanilla and tequila, calls it 'the fall margarita' and you won't know why until you've tried it. Since the cocktail is red, place a heart-shaped fruit on the rim of your glasses and the fun can begin.
Cheers!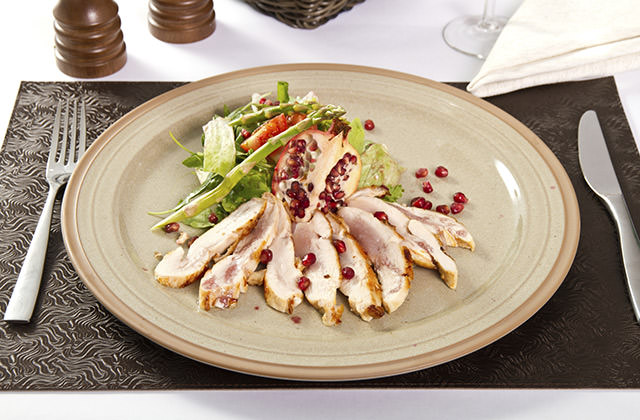 6. Pomegranate Duck
There's no better way to win your way to someone's heart and show how much you care than with a romantic dinner at home. Valentine's Day is the ideal opportunity to show off your cooking skills and share a delicious meal with your loved one.
Although preparing duck might seem like a tedious and intimidating task, there's no need to feel worried. If you want to make that someone special's dinner unforgettable, pomegranate duck is the perfect choice. Besides, you won't be preparing the whole bird – just the breasts. Since the breasts roast up pretty quickly, you'll have the ideal holiday meal ready in no time.
This dish is also easy to serve and tastes exquisite. Further, pomegranate-glazed duck breasts are low in calories – one serving has less than 300 kcal. Basically, you can indulge in an outstanding dinner and enjoy dessert without feeling guilty.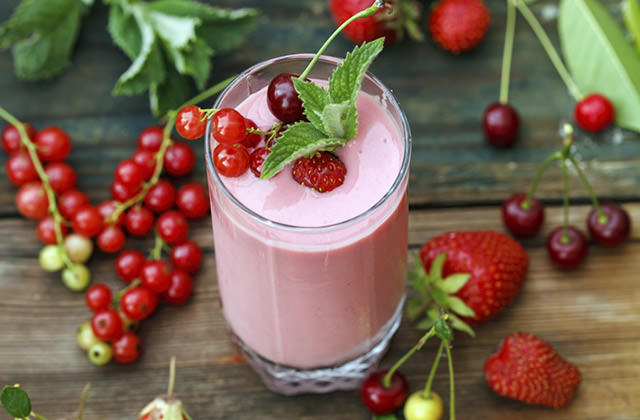 7. Strawberry Mango Banana Smoothie
Although it's perfectly fine to loosen up on Valentine's Day, some people simply don't want to drink alcoholic beverages. Since we all know the dangers and possible consequences of alcohol consumption, we decided to include a delicious smoothie on our list.
Additionally, there are numerous families who want their kids to participate in the celebration, and parents simply can't go wrong with fruit smoothies. Of course, you can purchase commercial smoothies, but we recommend that you make your own drinks. It's a simple recipe and your entire family will love these tropical, mouthwatering beverages.
Not only are mangoes and strawberries healthy, but they will also keep you full for longer. If you really want to go over the top, serve strawberries –or any other fruit- with the smoothie and enjoy a wonderful Valentine's Day beverage.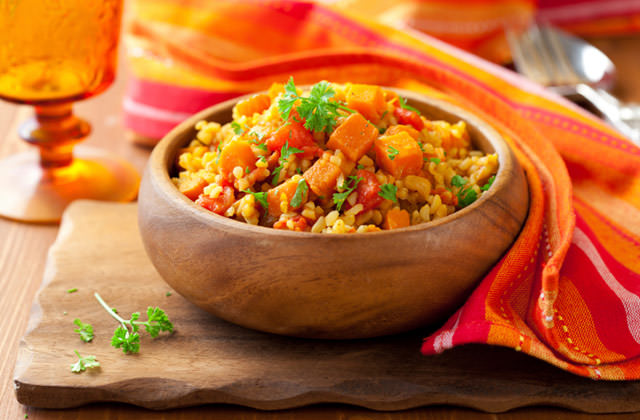 8. Couscous with Orange
We put in a lot of time, effort and energy in the main dish, and then serve frozen veggies as a side dish. Although the main course is supposed to be in the spotlight, don't underestimate the importance of a good side dish. Great chefs will tell you that choosing the perfect side dish makes all the difference in the world. Besides, you definitely want everything to be perfect on Valentine's Day.
This shouldn't scare you. Preparing the ideal side dish is not complicated and it doesn't require a lot of time or money. We chose the exotic couscous with orange because it is delicious, affordable and easy to make. You only need 10 minutes to prepare it and chances are that you already have all the ingredients at home.
Finally, you should know that the vitamin C in oranges raises your oxytocin level and encourages cuddling and kissing. You're welcome!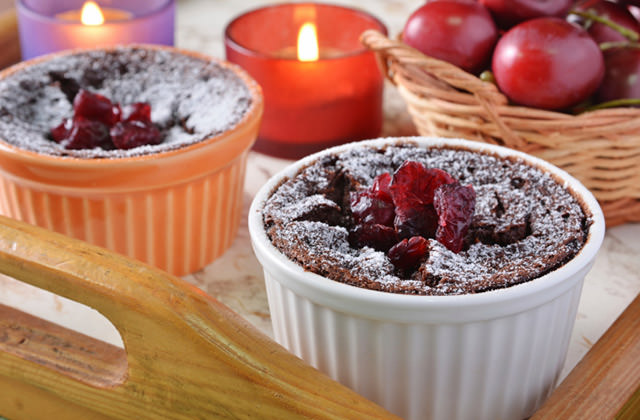 9. Chocolate Soufflé
Hailing from France, the decadent chocolate soufflé indeed has a notorious reputation. Thanks to its tendency to collapse quickly, the dessert has been frequently depicted in cartoons where it was often compared to a balloon – if you poke it, the soufflé will deflate in a second. Thanks to this popular notion, many chefs and cooks have avoided it like the plague.
Even though this popular myth has been debunked a long time ago, most people still wouldn't dare to prepare it. However, you should know that the chocolate soufflé is not a restaurant-only dessert and you don't need to be madly-skilled to make it. On the contrary – anyone who has the necessary ingredients can make it.
If you really want to surprise and impress your V-Day date, we recommend that you go with the chocolate soufflé. Besides, you don't need to tell them how easy it was. Sit back and enjoy the compliments!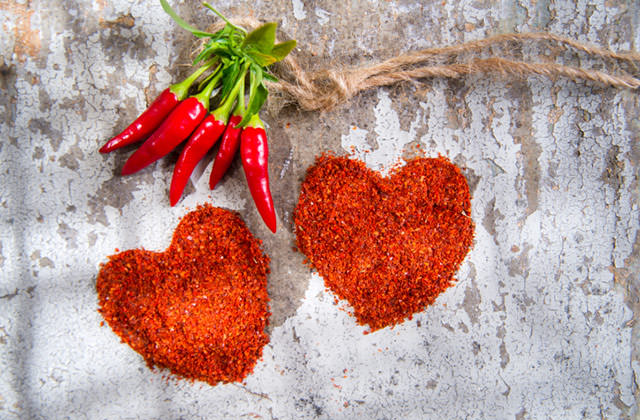 10. Aphrodisiac Foods
Last but not least, your V-Day dinner should certainly include foods that are somewhat connected to passion, desire and love. Some of them are well known, such as oysters, chocolate and wine, but there are many other foods which arouse or increase libido, including asparagus, avocado, almonds, figs and bananas.
You can also experiment with spices since saffron, ginger and ginseng are also tied to improved sexual drive and function. Although there is not much scientific evidence to back up the ability of aphrodisiac foods to improve your sex life, they are believed to have sexually stimulating effects. We cannot claim for a fact that these tasty foods will boost your sexual desires, but it's definitely worth a shot. After all, if you believe aphrodisiac foods will have an effect, they will have an effect.
So sit back, relax and enjoy the most romantic day of the year with your significant other and a lovely, home-made V-Day inspired dinner.
Continue Reading
From Around The Web
Popular on Diet.st