10 Romantic Healthy Recipes To Get You In The Mood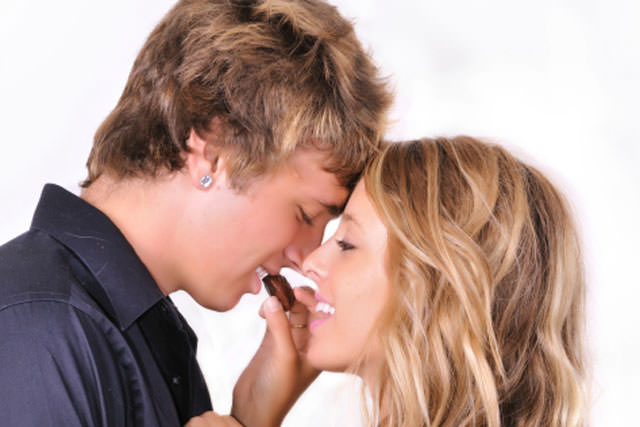 Some of the greatest love stories must start with a romantic dinner, as a rule. For this Valentine's Day, cook with love for him or her, watch your waist and let the love take over.
We made a list of 10 diet-friendly and easy recipes to combine for a loving Valentine's feast. Happy Valentine's!
1. Dark Chocolate Meringue Drops
A romantic dinner is unimaginable without chocolate, and this is one treat you don't have to avoid. Simply swap milk chocolate for dark and this classic treat goes from an indulgent one to a tasty health booster. Dark chocolate is rich in antioxidants, lower in fat than milk, and aids in weight loss.
Total Time: 59 mins
Difficulty: Medium
Yield: 40 servings
Ingredients
5 ounce chocolate, bitter or semisweet, divided
2 tablespoon cocoa powder, unsweetened, sifted after measuring if lumpy
3 tablespoon cocoa, nibs, optional
3 large egg whites, at room temperature (1/3 cup)
1/2 teaspoon cream of tartar
1/2 cup sugar, granulated, divided, (use 1 1/2 teaspoons less if cocoa nibs are omitted)
1/2 teaspoon vanilla extract
2 pieces paper, parchment, to cover baking sheets
1 dash cooking spray, to coat parchment paper
Preparation
Position racks in upper and lower thirds of oven; preheat to 350°F. Line 2 baking sheets with parchment paper and coat the paper with cooking spray.
Coarsely chop 3 ounces of chocolate and place it in a small microwave-safe bowl. Microwave on medium for 1 minute. Stir, and then continue microwaving on medium, stirring every 20 seconds, until mostly melted. Stir until the remaining chocolate melts completely.
Chop the remaining 2 ounces chocolate into pieces the size of mini chocolate chips. Combine in a small bowl with cocoa and cocoa nibs (if using).
Combine egg whites and cream of tartar in a clean medium mixing bowl. Beat with an electric mixer on low for 30 seconds, then at medium speed until soft peaks start to form. Immediately add about 2 tablespoons sugar; beat for 1 minute. About a tablespoon at a time, add the remaining sugar, then vanilla, continuing to beat on medium speed until the mixture is smooth, thickened, about 2 minutes longer. Scrape down the sides of the bowl, raise the speed to high, and beat for 30 seconds more. Lightly fold in the chocolate-cocoa mixture and the melted chocolate just until evenly incorporated and no streaks remain. Immediately drop the batter by rounded teaspoonfuls about 1 inch apart onto the prepared sheets.
Bake the cookies, switching the pans back to front and top to bottom halfway through, until just firm when gently pressed on top but still soft inside, 8 to 12 minutes. Transfer the pans to wire racks and let stand for 1 to 2 minutes. Then slide the paper from the pans to a flat surface and let the cookies cool completely, about 15 minutes. Gently lift the cookies from the parchment paper.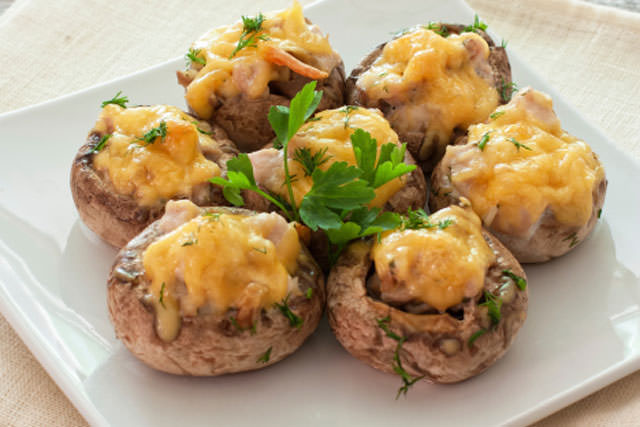 2. Four-Cheese Stuffed Mushrooms
Start your love-inspired meal with this delicious appetizer, made up of a blend of four cheeses, spinach, and sun-dried tomatoes tucked into savory mushroom caps, which are thought to be a powerful aphrodisiac. The key to cutting calories from this recipe is using tomatoes that haven't been packed in oil, and going for part-skim cheese. Cut the recipe by two-thirds if you're cooking for two — or make the full amount of this healthy recipe and enjoy the leftovers later.
Total Time: 28 mins
Difficulty: Easy
Yield: 24 servings
Ingredients
24 large mushrooms
1 tablespoon oil, olive
8 tomatoes, sun-dried, not oil-packed
boiling water
1 cup cheese, ricotta, low-fat
1/2 cup spinach, finely chopped
1/2 cup cheese, shredded Monterey Jack
3 tablespoon cheese, grated Parmesan
2 clove garlic, minced
1/4 teaspoon salt
1/4 teaspoon pepper, black ground
1/2 cup cheese, feta, crumbled
1 tablespoon basil, fresh
basil, fresh
Preparation
Preheat oven to 350°F. Remove and discard mushroom stems. Brush mushroom caps with oil. Arrange in a shallow baking pan, stem sides down. Bake for 12 minutes. Drain off any liquid. Increase oven temperature to 450°F.
Meanwhile, in a small bowl, cover dried tomatoes with boiling water; let stand for 10 minutes. Drain tomatoes, discarding liquid. Coarsely snip tomatoes. In a medium bowl, combine snipped tomatoes, ricotta cheese, spinach, Monterey Jack cheese, Parmesan, snipped basil, garlic, salt, and pepper. Turn mushroom caps stem sides up; fill caps with ricotta mixture. Sprinkle feta cheese over tops.
Bake filled caps in the 450° oven for 8 to 10 minutes or until heated through and lightly browned. If desired, garnish with basil leaves.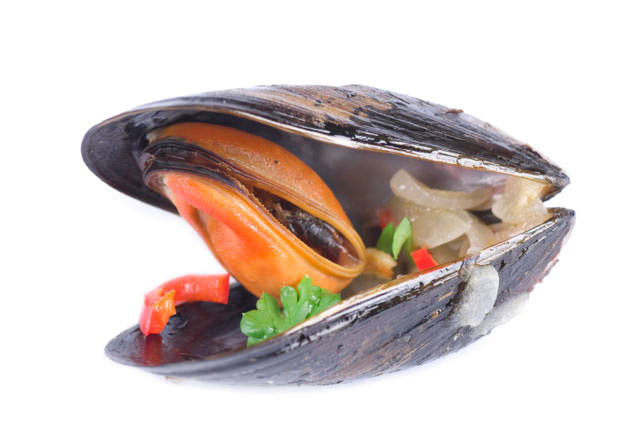 3. Spanish Tapas-Inspired Mussels
Shellfish, such as oysters and mussels, are believed to be some of nature's most powerful aphrodisiacs. In this dish, dark mussel shells provide a striking contrast to the tomatoes, onions, garlic, and fragrant saffron that come together with dry sherry to create a delicious sauce. Warm crusty French bread in the oven to soak up some of this dish's sauce — just limit yourself to one piece if you're counting calories.
Total Time: 40 mins
Difficulty: Medium
Yield: 2 servings
Ingredients
2 teaspoon oil, olive, extra-virgin
8 ounce beans, garbanzo (chickpeas), rinsed
8 whole tomatoes, cherry, halved
1 small onion, chopped
2 cloves garlic, minced
4 ounce pimento, rinsed, chopped
2 teaspoon oregano, fresh, chopped
1/2 teaspoon pepper, black ground
1 pinch saffron
1/2 cup broth, vegetable, or reduced-sodium chicken broth
1/4 cup sherry, dry
2 pounds mussels, scrubbed and debearded
Preparation
Heat oil in a large saucepan over medium heat.
Add chickpeas, tomatoes, onion, garlic and pimentos. Cook, stirring frequently, until softened, 6 to 8 minutes.
Stir in oregano, pepper and saffron. Cook, stirring, until fragrant, about 30 seconds.
Pour in broth and sherry, stirring to scrape up any browned bits. Bring to a simmer.
Add mussels and stir to combine. Return to a simmer. Cover, reduce heat and simmer until the mussels open, 6 to 8 minutes. Stir; discard any unopened mussels before serving.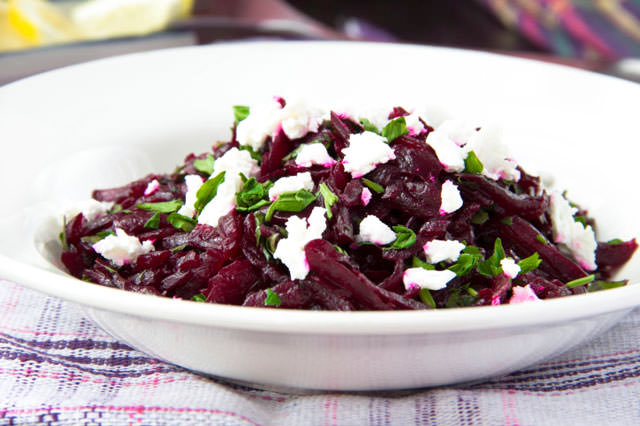 4. Beet Salad With Goat Cheese And Walnuts
This scrumptious salad with a colorful display of dark-red beets on a mountain of mixed greens and fresh herbs is perfect for the lovers' holiday. Sprinklings of fatty-acid-rich walnuts, which are thought to boost sex hormones, and crumbled goat cheese, add tasty accents. Save time by serving it with a bottled fat-free balsamic vinaigrette dressing.
Total Time: 20 mins
Difficulty: Easy
Yield: 2 servings
Ingredients
4 cups lettuce, mixed greens
4 tablespoon vinaigrette, balsamic, fat-free, or fat-free balsamic vinaigrette salad dressing
1 can beets, (8 1/4 ounces) chilled
1 tablespoon basil, fresh, snipped, or flat-leaf parsley
1/8 teaspoon black pepper
2 tablespoon nuts, walnuts, coarsely chopped, toasted
1 ounce cheese, goat cheese, crumbled
Preparation
Arrange salad greens on a small serving platter; drizzle with 2 tablespoons of the salad dressing. Set aside.
Drain and cut up beets. In a medium bowl, combine cut-up beets, basil or parsley, and pepper. Drizzle with the remaining 2 tablespoons salad dressing; toss to coat. Spoon beet mixture onto center of salad greens. Sprinkle beets with walnuts and goat cheese.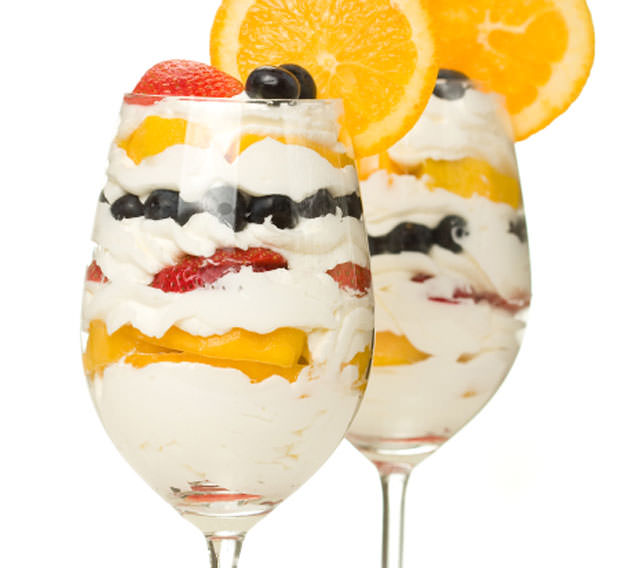 5. Mango Parfait
If what you really wanted for your special evening was a romantic trip the Caribbean, feel one step closer with this tropical recipe. For this dessert, simply layer chunks of mango with creamy fat-free frozen yogurt and top with berries and low-calorie whipped topping. Serve parfaits in a tall, clear glass.
Total Time: 15 mins
Difficulty: Easy
Yield: 2 servings
Ingredients
6 ounce frozen yogurt, fat-free vanilla
1 1/2 cup mango, (or papaya, peaches, apricots) chopped
2 ounce frozen light whipped dessert topping, thawed
fresh fruit, such as kiwi or raspberries
Preparation
Spoon yogurt into a small bowl. Fold in the 1/4 of an 8-ounce carton whipped topping. Spoon one-fourth of the yogurt mixture into each of 2 parfait glasses. Top with half of the mango. Repeat layers with remaining yogurt mixture and mango. If desired, top with additional whipped topping and fresh fruit.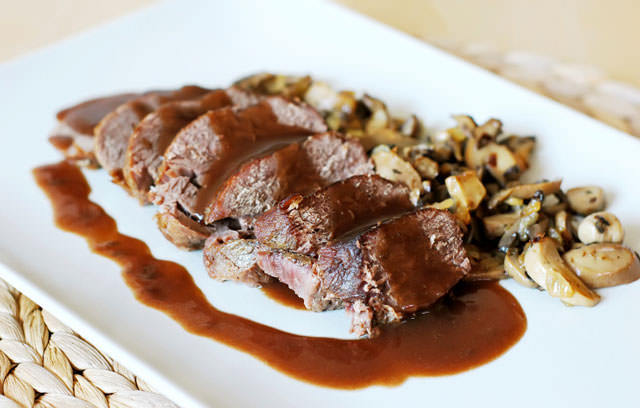 6. Steak With Mushrooms And Red Wine Reduction
Steak has to be the one food that most people think of when they think about a Paleo diet and with good reason. Steak is absolutely delicious and loaded with micro-nutrients, minerals and healthy saturated fat. Also, it's easy and quick to prepare when you know the right techniques. For this, we encourage you to head over and learn about the art of cooking steak and impress your significant other.
Total time: 90 mins
Difficulty: Medium
Yield: 2-4 servings
Ingredients
2 large T-bone steaks
About 3 tbsp cooking fat
1/2 lb mushrooms, chopped
1 green onion, chopped
¾ cup red wine
1 tbsp fresh thyme, finely chopped
Sea salt and freshly ground black pepper to taste
Preparation
Take your steaks out of the refrigerator for an hour or two prior to cooking to bring them to room temperature.
With your steaks at room temperature, sprinkle them with salt and pepper on both sides. Also, rub the steaks with some of the cooking fat.
Place a large skillet over a medium-high heat and add the steaks when the skillet is hot.
Cook on both sides for about 3 to 4 minutes, or until desired doneness. Once the steaks are cooked, remove them from the skillet and set aside.
Using the same skillet (without cleaning it) add another tablespoon of cooking fat. Add the mushrooms and green onion and sauté for a few minutes. Cook the mushrooms long enough so that any moisture that was released from them has evaporated so that it does not dilute the richness of the sauce. This will take anywhere from 5 to 10 minutes depending on the size and type of mushrooms. Add the wine and thyme and bring the sauce to a simmer. Allow it to cook this way for about 3 to 4 minutes, until the wine has reduced.
Place your steaks on a generous sized plate and pour the delicious mushroom and red wine sauce over them.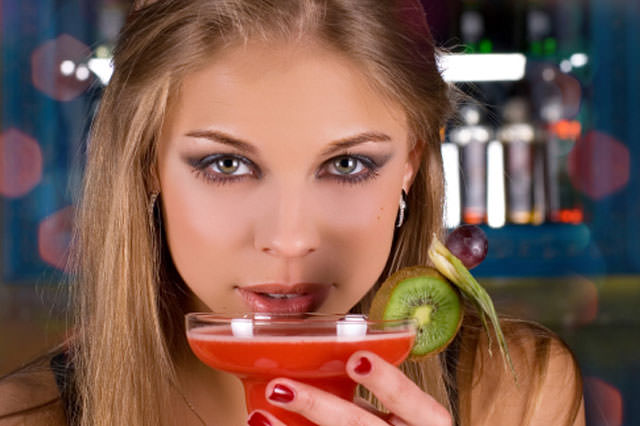 7. Blood Orange Margaritas
If you are looking to spice things up a bit for your sweetie, these hot pink drinks are the perfect choice for your romantic dinner. Start cocktail hour off with some tart margaritas. These ruby-red drinks are made with fresh-squeezed citrus juice and no added sugar. These are pretty strong cocktails. Drink with caution.
Total time: 10 mins
Difficulty: Easy:
Yield: 4-6 servings
Ingredients
2 cups freshly squeezed blood orange or navel orange juice (about 8 oranges)
¾ cup freshly squeeze lime juice (about 6 limes)
1 3/4 cups silver tequila
¾ cups Cointreau or Triple Sec
kosher salt or sugar for rim of glass
Preparation
Mix blood orange juice, lime juice, tequila, and Cointreau or triple sec in a large pitcher. Refrigerate for at least 30 minutes.
Wet edge of margarita glass with a damp paper towel. In a small plate, pour kosher salt (or sugar) until it covers the bottom. Lightly dip the glass with wet rim into the salt (or sugar) and rotate until you have a salted/sugared rim. Let salt/sugar set for about 5-10 minutes before filling.
Fill glass with ice and pour margarita into prepared glass.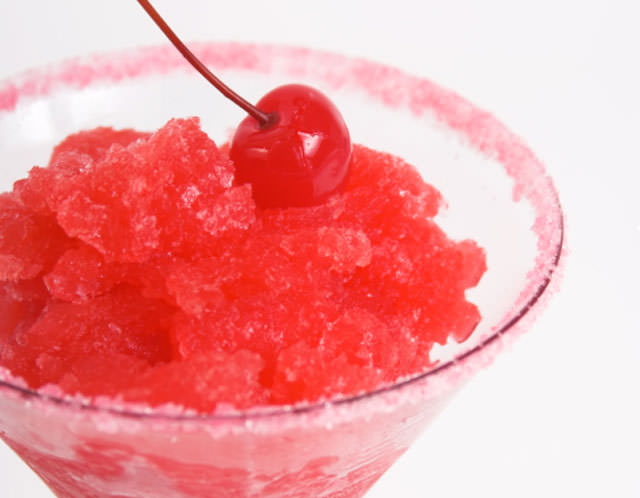 8. Whiskey Sour Slush
This is really quite simple and will definitely get you in the mood. Ready?
Total time: 3 mins
Difficulty: Easy
Yield: 4 servings
Ingredients
8oz fresh or frozen cranberries
1 cup orange juice
1/2-3/4 cups 80-proof bourbon
Juice of 2 lemons
1/2 cup sugar (optional)
Preparation (without sugar)
Blend cranberries, orange juice, bourbon, and lemon juice in a blender.
Strain through a fine mesh sieve to remove seeds. Push the mixture through using a rubber spatula.
Freeze the strained mixture.
When frozen, scrape with a fork, divide into four glasses and enjoy your night.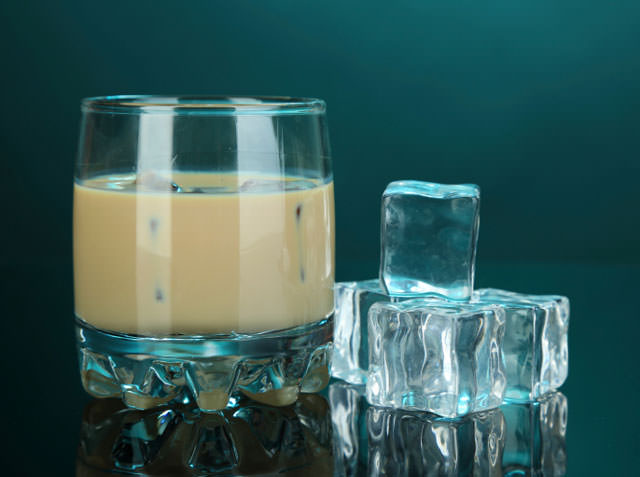 9. Romantic Almond Slide
This fantastic, explosive drink comes with only 66 calories, but you should pay attention to your decisions after drinking it. It is strong, sweet, and creates a serious love drive.
Total time: 3 mins
Difficulty: Easy
Yield: 2 servings
Ingredients
3/4 ounce Amaretto
3/4 ounce Kahlua
1 1/2 ounces French vanilla liquid coffee creamer
crushed ice
Preparation
Mix the liqueurs and creamer, stirred or shaken.
Pour over crushed ice.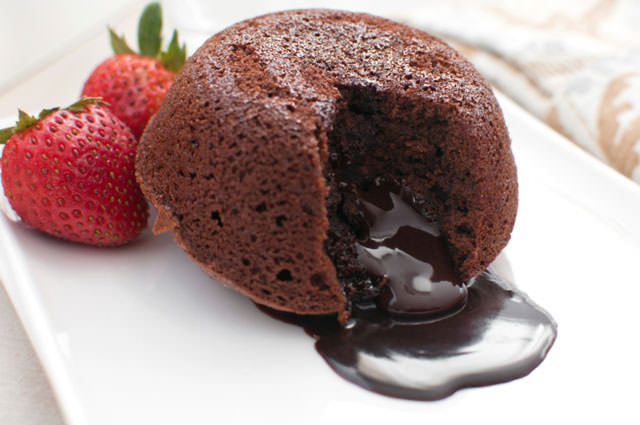 10. Chocolate Lava Cakes With Pistachio Cream
A golden pistachio cream adds a touch of elegance to the fudgy cakes with gooey chocolate centers. Portion control is sometimes easier with individual cakes such as these. These flourless chocolate cakes are as rich as restaurant desserts, but they're made with a fraction of the fat and no dairy butter, and these come with 232 calories.
Total time: 4 hours
Difficulty: Medium
Yield: 12 servings
Ingredients
1 cup shelled dry-roasted pistachios
1 3/4 cups sugar, divided
1/4 cup unsweetened cocoa
2 large eggs
5 large egg whites
2 ounces bittersweet chocolate, coarsely chopped
1/2 teaspoon baking powder
1/2 teaspoon vanilla extract
Cooking spray
1 cup 2% reduced-fat milk
Dash of salt
Powdered sugar (optional)
Preparation
Place pistachios in a food processor; process until a crumbly paste forms, about 3 1/2 minutes, scraping sides of bowl once.
Place 1/4 cup pistachio butter, 1 1/4 cups sugar, cocoa, eggs, and egg whites in top of a double boiler; stir well with a whisk. Add chocolate; cook over simmering water until chocolate melts and sugar dissolves, about 3 minutes. Remove from heat, add baking powder and vanilla. Stir with a whisk until smooth. Spoon batter into 12 muffin cups coated with cooking spray. Chill 2 hours.
Place remaining 1/4 cup pistachio butter and 1/2 cup sugar in food processor; pulse 4 times or until combined. Add milk and salt, process until smooth. Strain mixture through a sieve into a small saucepan; discard solids. Bring to a boil. Reduce heat, simmer 4 minutes or until thick. Remove from heat, pour into a bowl. Cover and chill.
Preheat oven to 450°.
Bake cakes at 450° for 9 minutes or until almost set (centers will not be firm). Let cool in pan 5 minutes. Invert each cake onto a dessert plate; drizzle with sauce. Garnish with powdered sugar, or fruits, if desired.
Continue Reading
From Around The Web
Popular on Diet.st