Amazing Diabetes-Friendly Peanut Butter Brownies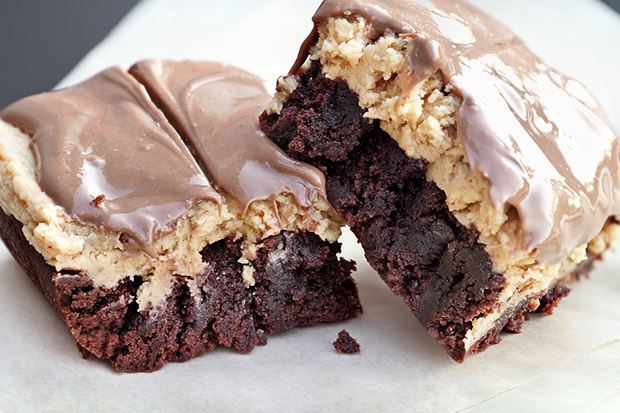 Chocolate and peanut butter are an unbeatable mix in these homemade, low-carb brownies. Using a knife, swirl the peanut butter in with the batter to create a gorgeous ribbon effect. They have 17 grams of carbs per serving, so you can have two.
Bon Appetite!
Ingredients:
1/4 cup butter
3/4 cup granulated sugar or sugar substitute blend equivalent to 3/4 cup sugar
1/3 cup cold water
3/4 cup refrigerated or frozen egg product, thawed, or 3 eggs, lightly beaten
1/4 cup canola oil
1 teaspoon vanilla
1 1/4 cups all-purpose flour
1 teaspoon baking powder
1/4 cup creamy peanut butter
1/2 cup unsweetened cocoa powder
1/4 cup miniature semisweet chocolate pieces
Preparation:
Preheat oven to 350 degrees. Line a 9x9x2-inch baking pan with foil, extending foil up over the edges of the pan. Lightly coat foil with nonstick spray.
In a saucepan, melt butter over low heat; remove from heat. Whisk in sugar and the water. Whisk in egg, oil, and vanilla until combined. Stir in 1 cup of the flour and the baking powder until combined. Place peanut butter in a small bowl; gradually whisk in 1/2 cup of the batter until smooth. In another small bowl, combine the remaining 1/4 cup flour and the cocoa powder. Stir into the plain batter; stir in chocolate pieces. Pour chocolate batter into prepared pan.
Drop peanut butter batter in small mounds over chocolate batter in pan. Using a thin metal spatula, swirl batters together. Bake for 20 to 25 minutes or until top springs back when lightly touched and a toothpick inserted near the center comes out clean. Cool completely in pan on a wire rack. Cut into bars.
Tips
If using the gluten-free baking mix, increase water to 1/2 cup.
Choose sugar according to your diet.
Choose flour according to your diet.
From Around The Web
Popular on Diet.st