Balsamic Bruschetta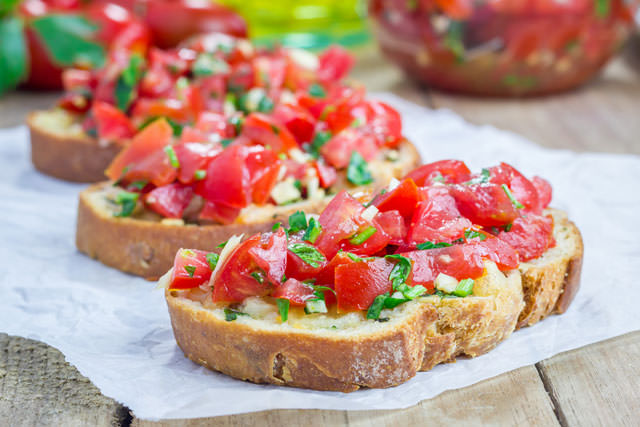 You can never have too many bruschetta recipes and this one is purely Mediterranean for your appetizer enjoyment. The balsamic vinegar elevates this dish from just another bruschetta recipe and gives it that extra kick. You will have difficulties explaining to people they haven't actually been transported to Southern France or Italy once they taste your balsamic bruschetta.
Ingredients:
8 diced plum tomatoes
1/3 cup chopped fresh basil
1/4 cup shredded Parmesan cheese
2 cloves garlic, minced
1 tablespoon balsamic vinegar
1 teaspoon olive oil
1/4 teaspoon kosher salt
1/4 teaspoon freshly ground black pepper
1 loaf French bread, sliced and toasted
Preparation:
Take a large bowl and mix the diced tomatoes, chopped basil, shredded Parmesan and minced garlic together. Add olive oil, freshly ground black pepper, and kosher salt. Add the balsamic vinegar to taste.
Leave the mixture to blend for a few hours if you have the time.
Spread the mixture on toasted French bread and serve.
Bon Appetite!
From Around The Web
Popular on Diet.st