Black Bean Veggie Burgers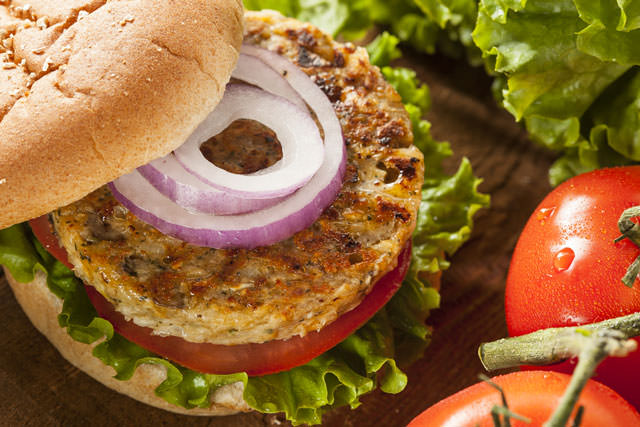 This recipe easily beats any frozen veggie burger recipe simply because of its juiciness. These burgers are easy to make and you'll be proud of your culinary skills for creating such a delicious vegetarian treat.
Bon Appétit!
Ingredients
1 can drained and rinsed black beans
½ onion
3 cloves garlic
1 egg
½ green bell pepper
1 tablespoon chili powder
1 teaspoon Thai chili sauce
1 tablespoon cumin
½ cup bread crumbs
Preparation
Cut the green bell pepper into 2-inch pieces, cut the onion into wedges, and peel the garlic.
Mash the black beans in a medium bowl until they are thick and "pasty."
Take a food processor and finely chop the pepper, onion and garlic. Once finished, mix them with the mashed beans.
Stir the egg, chili powder, cumin, and chili sauce together in a small bowl.
Stir the egg mixture with the mashed beans, put in some bread crumbs and keep adding until the mixture is holding together, then divide it into four patties.
Make a choice – grill or bake? If you're grilling, heat the grill for high heat and oil a sheet of aluminum foil; if baking heat your oven to 375 degrees and oil a baking sheet. You should grill them for about 8 minutes on each side, and bake for about 10 minutes on each side.
From Around The Web
Popular on Diet.st