Cranberry Spinach Salad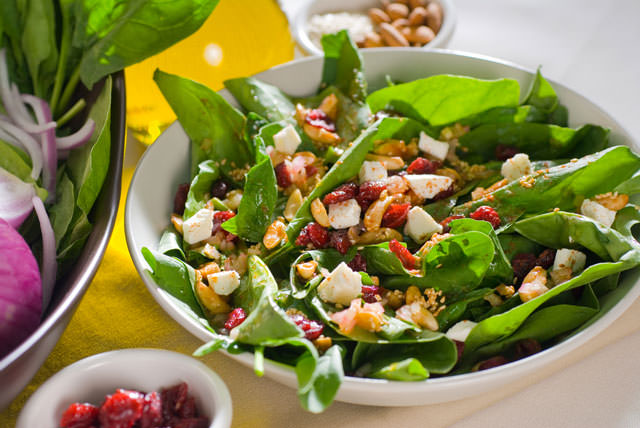 Everybody loves a nice spinach salad. This one is a bit different as it features cranberries and a few other ingredients that work surprisingly well with the spinach. It is real easy to make and it will raise a few eyebrows, guaranteed.
Ingredients:
3/4 cup almonds
1 pound spinach
1 cup dried cranberries
2 tablespoons toasted sesame seeds
1 tablespoon poppy seeds
1/2 cup white sugar
2 teaspoons minced onion
1/4 teaspoon paprika
1/4 cup white wine vinegar
1/4 cup cider vinegar
1/2 cup vegetable oil
1 tablespoon butter
Preparation:
Blanche the almonds in boiling water for two to three minutes and then use a paper towel to remove the skin. Slice them into thin slices.
Melt butter in a saucepan at medium heat. Stir the almonds in until they are lightly toasted. Remove from heat.
Separately, whisk together poppy seeds, sesame seeds, onion, sugar, paprika, cider and white wine vinegar, vegetable oil. Toss with spinach.
Serve everything in a large bowl and sprinkle with cranberries and toasted almonds.
Bon Appetite!
From Around The Web
Popular on Diet.st