Creamy Artichoke And Asparagus Lasagna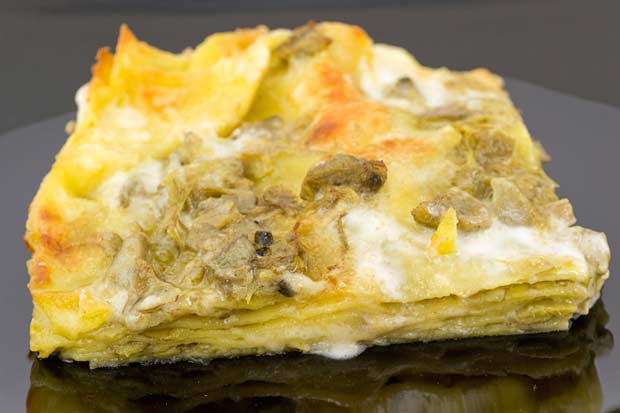 Delicious creamy lasagna with lemon rind, which brightens the sauce, making it a more delicate lasagna than you could possibly imagine. Also, it is great for special dinner parties. Asparagus is high in antioxidants, and artichoke is a known aphrodisiac, a diuretic, a breath freshener and a deodorant. This warm lasagna is totally vegetarian.
Bon Appetite!
Ingredients:
1 tablespoon olive oil
2 cups thinly sliced leek (about 2 large)
1 pound asparagus, trimmed and cut into 1-inch pieces
2 teaspoons minced garlic
2 teaspoons chopped thyme
7 ounces frozen artichokes, thawed and coarsely chopped
1 1/2 cups 1% low-fat milk
3 tablespoons flour
1 cup organic vegetable broth
1 1/2 teaspoons grated lemon rind
1/2 teaspoon kosher salt
1/2 teaspoon black pepper
1/8 teaspoon nutmeg
Dash of ground red pepper
4 ounces part-skim mozzarella cheese, shredded
2 ounces vegetarian Parmesan cheese, grated
Cooking spray
6 cooked lasagna noodles
Preparation:
Preheat oven to 375°.
Heat a skillet over medium heat. Add oil to pan and swirl to coat. Add leek and cook 3 minutes, stirring. Add asparagus and cook 3 minutes, stirring. Add garlic and thyme and cook 1 minute. Stir in artichokes and remove from heat.
Combine 1/2 cup milk and flour in a saucepan, stirring until smooth. Stir in remaining 1 cup milk and broth. Bring to a simmer over medium heat, frequently stirring. Simmer 1 minute until thickened. Add rind and the next 4 ingredients.
Combine cheeses in a bowl. Spread 1/2 cup milk mixture in bottom of an 8-inch square glass or ceramic baking dish coated with cooking spray. Cut bottom third off each noodle to make 6 large and 6 small noodles. In a single layer, arrange 2 large and 2 small noodles over milk mixture to fit pan; top with one-third of vegetable mixture, one-third of milk mixture, and one-third of cheese mixture. Repeat twice, put cheese on top. Cover with foil coated with cooking spray. Bake at 375° for 25 minutes.
Preheat broiler to high.
Uncover lasagna and broil on middle rack of oven for 2 minutes or until cheese is melted. Let it stand 5 minutes and then serve.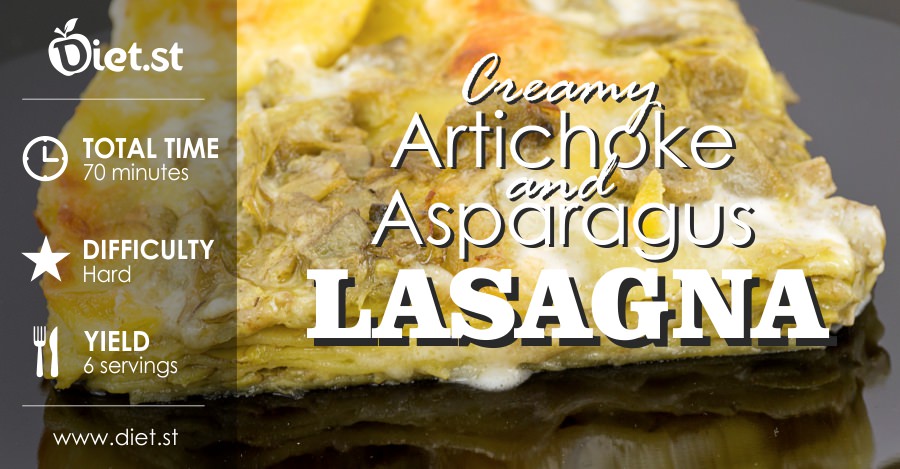 From Around The Web
Popular on Diet.st