Curried Winter Squash Soup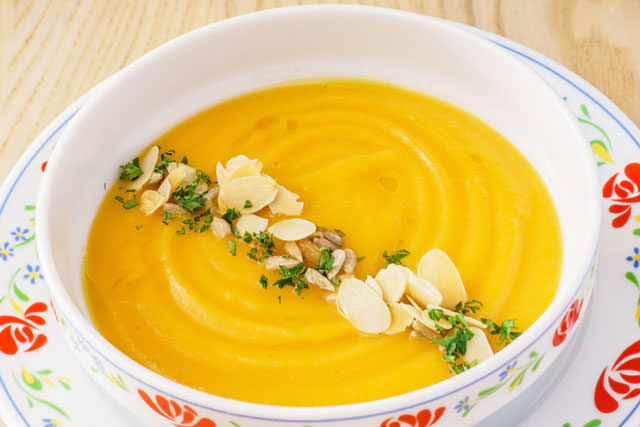 If you are looking for a soup that is going to fill the tanks during winter, so to say, then look no further. This is a soup which could feed an army and keep it going for days. And in addition to this, it is very low-fat and good for you.
Ingredients:
1 onion, chopped
3 cloves garlic, crushed
1 tablespoon olive oil
1 1/2 teaspoons curry powder
1 teaspoon cumin
1 teaspoon turmeric
8 cups vegetable stock
1/4 cup dry lentils
1 can diced tomatoes with juice
1/4 cup uncooked white rice
1 cup frozen corn
1/4 cup elbow macaroni
1 small spaghetti squash
Preparation:
Bake the squash cut side down at 350 degrees F for about 30 minutes. If you can easily stick a knife into it, it's done. Take it out of the oven and wait for it to cool. Then, use the fork to shred the squash into spaghetti squash.
Saute onions and garlic in olive oil in a large pot. Add cumin, turmeric and curry powder. When onions get translucent, add vegetable stock and lentils. Bring to a boil. Once it boils, add tomatoes and juice and reduce to simmer.
Depending on the type of rice you use, add it either 10 or 25 minutes after adding lentils (brown rice sooner than white rice). Add the corn with the rice.
Cook for 35 minutes and then add spaghetti squash and macaroni. Let it simmer until the pasta is cooked.
Bon Appetite!
From Around The Web
Popular on Diet.st