Delicious Shrimp Cheese Linguine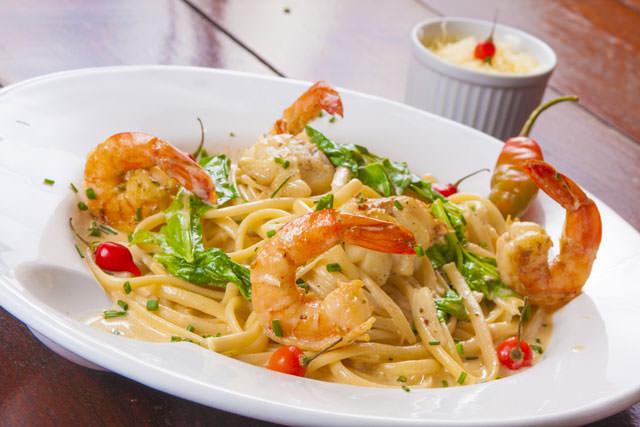 Today we will show you a fantastic way to combine shrimps with Parmesan cheese and linguine. It's as easy as it sounds and much tastier than you could've ever hoped.
Bon Appétit!
Ingredients
1 tablespoon olive oil
1 pound fresh shrimp, peeled and deveined
1/2 cup chicken broth
1 tablespoon chopped fresh basil
¼ cup white wine
1 package linguine pasta
1 lemon, juiced
2 teaspoons freshly ground black pepper
½ teaspoon lemon zest
Salt to taste
1/4 cup butter
3 tablespoons chopped fresh asparagus
1 cherry tomato
Preparation
Get a large pot of lightly salted water and bring it to a boil. Add the linguine and cook for about 10 minutes or until al dente, then drain them.
Heat the oil in a large saucepan over medium heat and sauté the garlic for no more than a minute. Mix in the chicken broth, wine, salt, pepper, lemon juice and lemon zest, then reduce the heat and simmer until the liquid is reduced by about half.
Mix in the shrimp, asparagus, basil and butter into the saucepan and cook for up to 3 minutes or until shrimp is opaque. Stir in the cooked linguine and continue cooking the mixture for 2 minutes or until well coated. Slice the cherry tomatoes in half and add them as the finishing touch.
From Around The Web
Popular on Diet.st