Delightful And Hearty Vegan Chili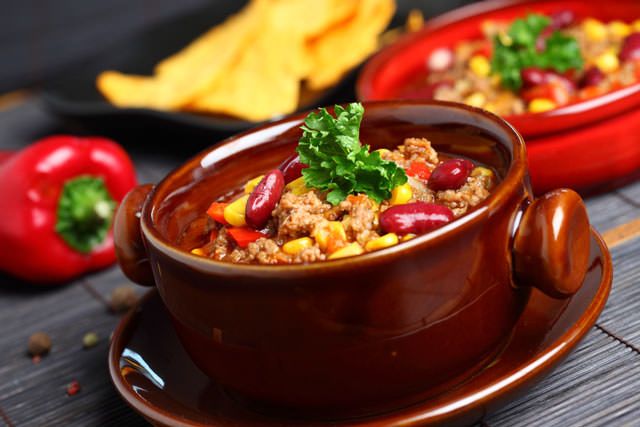 Satisfying, generous and veggie-packed, this vegan chili will leave you feeling full for hours.
Bon Appetite!
Ingredients
1.5 tablespoons extra virgin olive oil
2 heaping cups diced sweet onion
2 tablespoons minced garlic
2 jalapeños, seeded and diced
1 cup diced celery
1 lg. red bell pepper, seeded and diced
1 can diced tomatoes
1 cup vegetable broth
6 tablespoons tomato paste
1 can kidney beans, drained and rinsed
1 can pinto beans, drained and rinsed
2 tablespoons chili powder
2 teaspoons ground cumin
1 teaspoon dried oregano
1/2-3/4 teaspoon fine grain sea salt, or to taste
1/4 teaspoon ground cayenne pepper
1 teaspoon hot sauce
Toppings (optional)
Homemade vegan sour cream
Chopped green onions
Fresh cilantro
Preparation
In a large pot, sauté the onions and garlic in the oil over medium heat until soft and translucent, about 5 minutes. Season with a pinch of salt and stir.
Add the jalapeños, celery, and bell pepper and sauté for another 5-7 minutes or so, until softened.
Now add a can of diced tomatoes (with the juice), broth, and tomato paste. Stir to combine. Increase heat to medium-high.
Add the drained and rinsed beans, along with the chili powder, cumin, oregano, salt, cayenne, and hot sauce. Simmer the mixture until thickened, about 10-15 minutes and adjust seasonings to taste if necessary.
Serve with homemade vegan sour cream, chopped green onion, and cilantro leaves, if desired.
From Around The Web
Popular on Diet.st