Diabetes-Friendly Louisiana Chicken Drumsticks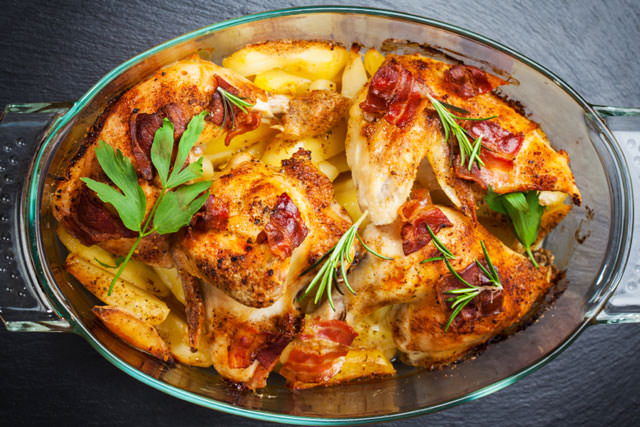 If you want a really delicious, moist and strong lunch, you should try this Louisiana diabetes-friendly dish. It's also low-fat and low-cal, and the palette of flavors is amazing.
Bon Appetite!
Ingredients
8 chicken drumsticks, skinned
1 14 1/2 – ounce can no salt added stewed tomatoes
1 cup frozen cut okra
1 teaspoon dried thyme, ground
1 1/2 tablespoons Louisiana hot sauce
1/4 teaspoon salt
1/4 teaspoon black pepper
2 cups hot cooked whole grain noodles
Preparation
Lightly coat a nonstick skillet with cooking spray and place over medium-high heat. Brown chicken on all sides, about 6 minutes, turning occasionally. Top with stewed tomatoes, okra, and dried thyme, 1 tablespoon of the hot sauce, the salt and pepper. Bring to a boil over medium-high heat; reduce heat. Cover and simmer 30 minutes or until no longer pink in center.
Place the chicken pieces on a serving platter. Stir the remaining hot sauce into skillet and spoon sauce over all. Serve with noodles. Makes 4 servings (2 drumsticks, 1/2 cup sauce and 1/2 cup noodles).
From Around The Web
Popular on Diet.st