Diabetes-Friendly Salmon Ciabatta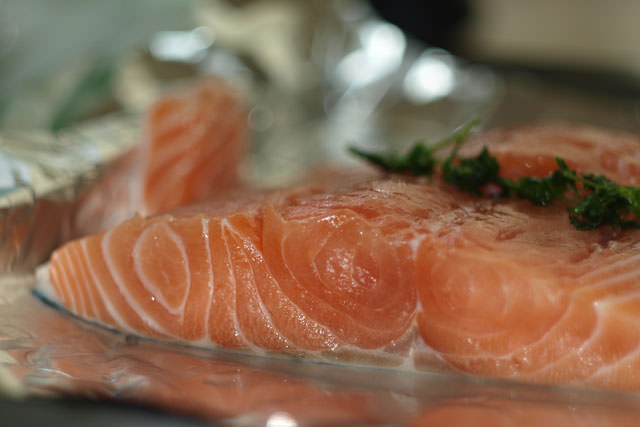 Fresh salmon fillets are marinated, then lightly grilled and served in warm ciabatta rolls with salad leaves and a basil mayonnaise. Together, it creates a very tempting and special lunch dish.
Bon Appetite!
Ingredients
Juice of 1 lime
3 tbsp chopped fresh basil
4 skinless salmon fillets
2 1⁄2 tbsp plain low-fat yogurt
2 1⁄2 tbsp light mayonnaise
1⁄2 tsp finely grated lime zest
4 ciabatta or whole-wheat rolls
Salt and pepper
Mixed salad leaves
Preparation
Mix together the lime juice, 2 tbsp of the basil, and salt and pepper in a shallow, non-metallic dish. Add the salmon fillets and turn them in the mixture to coat well all over. Cover and leave to marinate in the refrigerator for 30 minutes.
Mix together the yogurt, mayonnaise, lime zest and remaining 1 tbsp basil in a small bowl. Season lightly with salt and pepper. Cover and refrigerate.
Preheat the oven to 425°F (220°C). Remove the salmon fillets from the marinade and place on a ridged grill pan. Brush the salmon with a little of the marinade, then grill until the fish is just cooked and the flesh is beginning to flake, about 4 to 5 minutes on each side, brushing again with the marinade after you have turned the fillets. While the fish is cooking, place the ciabatta rolls, wrapped in foil, in the oven to bake for 5 minutes.
Split the ciabatta rolls in half and spread the cut sides with the basil mayonnaise. Put a cooked salmon fillet on the bottom half of each roll and top with a few mixed salad leaves. Put the top half of each roll in place and serve immediately.
From Around The Web
Popular on Diet.st