Diet-Friendly Asian Steak Salad With Mango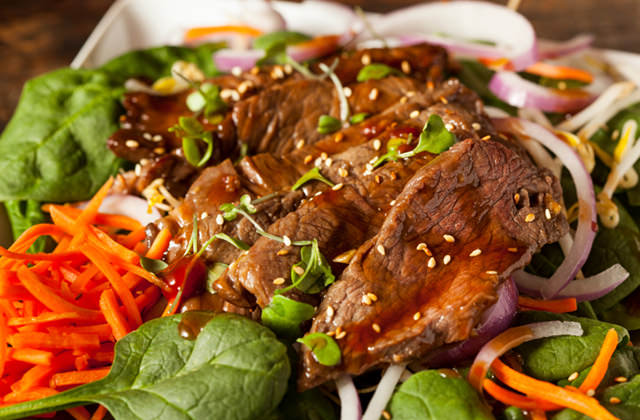 With only 287 calories, you can enjoy your main course salad without feeling guilty. This is a classic Thai beef salad, improved with mango.
Bon Appetite!
Ingredients:
3/4 pound sirloin steak (1 inch thick)
kosher salt and black pepper
1 teaspoon grated lime zest
3 tablespoons fresh lime juice
1 tablespoon honey
1 tablespoon chopped pickled ginger
2 teaspoons low-sodium soy sauce
3 tablespoons canola oil
1 large head romaine lettuce, cut into strips (about 7 cups)
1 mango, cut into thin strips
1 red bell pepper, thinly sliced
1/2 cup fresh basil leaves, sliced
2 scallions, thinly sliced
1 teaspoon toasted sesame seeds
Preparation:
Heat a large skillet over high heat. Season the steak with ¼ teaspoon each of salt and black pepper. Cook 4 to 5 minutes per side for medium-rare. Let rest at least 5 minutes.
In a large bowl, whisk together the lime zest and juice, honey, ginger, soy sauce, oil, and ¼ teaspoon salt. Add the lettuce, mango, bell pepper, basil, and scallions and toss to combine. Gently fold in the steak and sprinkle with the sesame seeds.
From Around The Web
Popular on Diet.st