Diet-Friendly Chicken Kiev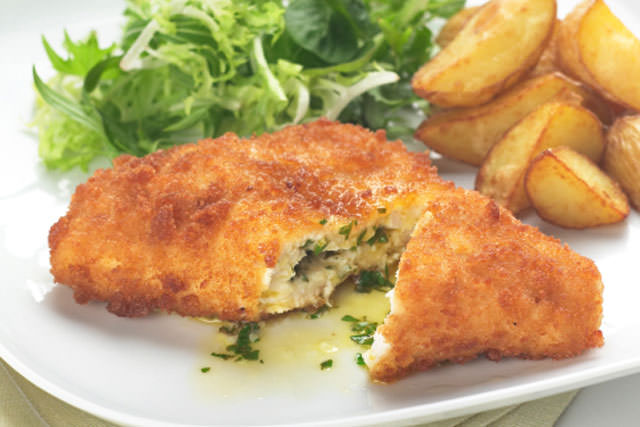 This is the healthiest chicken Kiev out there. We use skinless chicken, granary breadcrumbs and low-fat spread, making this a great and healthy family meal.
Bon Appetite!
Ingredients
4 skinless chicken breasts
20g low-fat spread
2 garlic cloves, crushed
1 tbsp finely chopped chives
1 egg, beaten
4 tbsps granary breadcrumbs
salt and black pepper
4 big potatoes
1 stock cube
Low-cal spray oil
Preparation
Preheat the oven to 200°C. Place each chicken breast on a chopping board and slice through the center to make a pocket.
Mix together the low-fat spread, garlic and chives and season with salt and pepper. Spoon the mixture into the pocket of each chicken breast.
Dip the chicken in the beaten egg, and then in the breadcrumbs and place on a non-stick baking tray. Bake in the oven for 25-30 minutes until cooked through.
Cook the potatoes in boiling water with the stock cube for 2-3 minutes. Drain and place on a baking tray.
Spray lightly with oil and bake in the oven for 20 minutes (you can cook them with the chicken).
Serve the chicken and chips hot with vegetables.
From Around The Web
Popular on Diet.st