Diet-Friendly Stuffed Portobello Mushrooms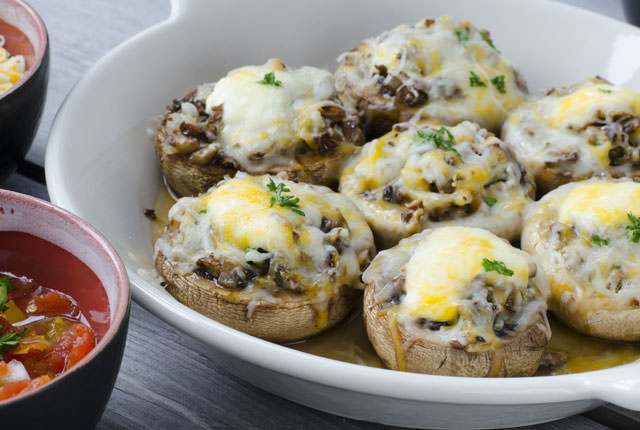 This diabetes-friendly, low-cal and low-fat vegetarian dish will please the crowd and satisfy even the most delicate taste buds.
Bon Appetite!
Ingredients
4 large portobello mushroom caps
1/4 teaspoon salt
1/4 teaspoon freshly ground pepper, divided
1 cup part-skim ricotta cheese
1 cup finely chopped fresh spinach
1/2 cup finely shredded Parmesan cheese, divided
2 tablespoons finely chopped kalamata olives
1/2 teaspoon Italian seasoning
3/4 cup prepared marinara sauce
Preparation
Preheat the oven to 450°F. Coat a rimmed baking sheet with cooking spray.
Place mushroom caps, gill-side up, on the prepared pan. Sprinkle with salt and 1/8 teaspoon pepper. Roast until tender, 20 to 25 minutes.
Meanwhile, mash ricotta, spinach, 1/4 cup Parmesan, olives, Italian seasoning and the remaining 1/8 teaspoon pepper in a medium bowl. Place marinara sauce in a small bowl, cover and microwave on high until hot, 30 seconds to 1 1/2 minutes.
When the mushrooms are tender, carefully pour out any liquid accumulated in the caps. Return the caps to the pan gill-side up. Spread 1 tablespoon marinara into each cap; cover the remaining sauce to keep warm. Mound a generous 1/3 cup ricotta filling into each cap and sprinkle with the remaining 1/4 cup Parmesan. Bake until hot, about 10 minutes. Serve with the remaining marinara sauce.
From Around The Web
Popular on Diet.st