Dill Pickle Salsa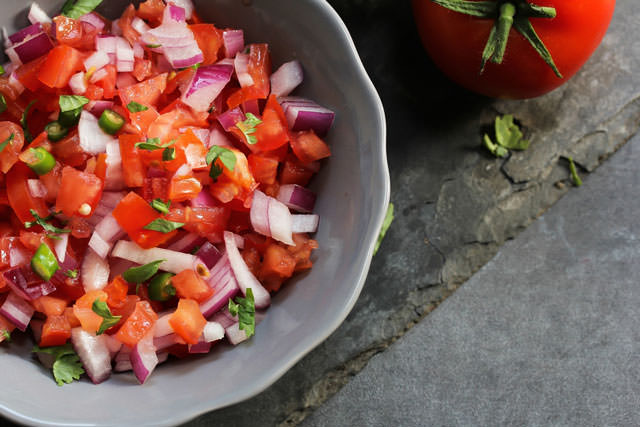 Total Time
20 mins + 24 hours
One thing you can never run out of are salsa recipes. You will want to change things up every now and then, and today we are letting you in on a little salsa secret – using dill pickles. You are guaranteed to fall in love with this delicious and healthy salsa.
Ingredients
1 (28 ounce) can tomatoes, crushed
1 cup diced dill pickles
1/2 cup onion, finely chopped
1/4 cup dill pickle juice
1/4 cup fresh cilantro, chopped
1 jalapeno pepper, finely chopped
1 lime, juiced
1 teaspoon white sugar
1/2 teaspoon salt
1/2 teaspoon red pepper flakes
1/4 teaspoon chili powder
1/4 teaspoon ground cumin
1/4 teaspoon ground black pepper
Preparation
In a large bowl, mix diced dill pickles, crushed tomatoes, dill pickle juice, chopped onion, cilantro, lime juice, jalapeno peppers, salt, sugar, red pepper flakes, cumin, black pepper and chili powder.
Cover the bowl with plastic wrap and seal well. Leave in the refrigerator for a day.
Enjoy your salsa.
Bon Appetite!
From Around The Web
Popular on Diet.st