Festive Herb-Roasted Turkey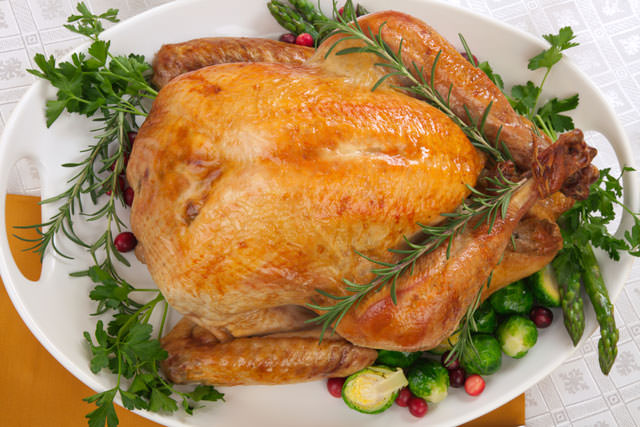 This method produces the best look and moist flavor in a Thanksgiving turkey. There is no feast without it, so enjoy the aromatic flavors and let your taste buds go crazy with deliciousness. Make sure you show it off at the table before you carve it. Garnish with fresh herb sprigs and citrus wedges, for even better taste and presentation.
Ingredients
1 10-12-pound turkey
1/4 cup fresh herbs, plus 20 whole sprigs, such as thyme, rosemary, sage, oregano and/or marjoram, divided
2 tablespoons canola, oil
1 teaspoon salt
1 teaspoon ground pepper
Aromatic ingredians such as onion, apple, lemon or orange, cut into 2-inch pieces (1 1/2 cups)
3 cups water, more if needed
Preparation
Position a rack in the lower third of the oven and preheat to 475°F.
Remove giblets and neck from turkey cavities and set aside for the gravy. Place the turkey breast-side up on a rack in a roasting pan. Pat dry with paper towels. Mix herbs, oil, salt and pepper in a bowl. Rub the herb mixture all over the turkey, under the skin and on the breast. Place aromatic ingredients and 10 of the herb sprigs in the cavity. Tuck the wing tips under the turkey. Tie the legs together with a string. Add 3 cups water and the remaining 10 herb sprigs to the pan.
Roast the turkey until the skin is golden brown for 45 minutes. Remove it from the oven. If using a remote digital thermometer, insert it into the deepest part of the thigh. Cover the breast with a double layer of foil, cutting to conform to the breast. Reduce oven temperature to 350° and continue roasting for 11/4 to 13/4 hours. If the pan dries out, tilt the turkey to let juices run out into the pan and add 1 cup water. The turkey is done when the thermometer registers 165°F.
Transfer the turkey to a serving platter and cover with foil. Let it rest for 20 minutes. Remove the string and carve.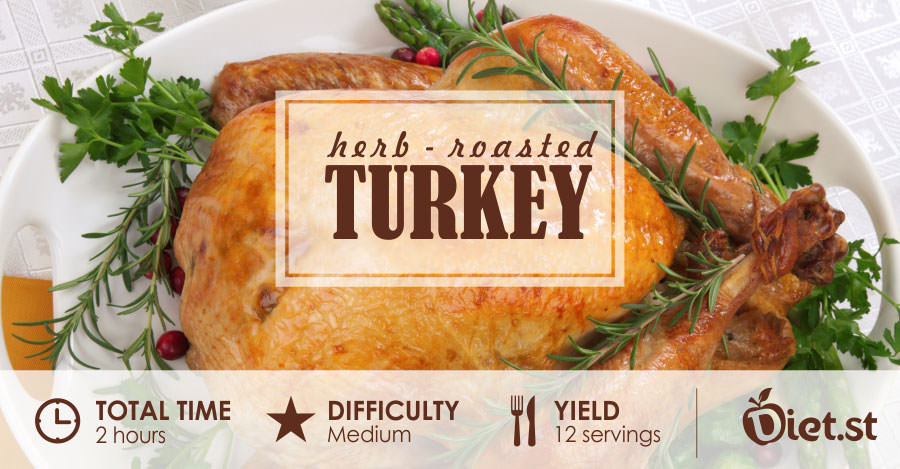 From Around The Web
Popular on Diet.st