Fresh Vietnamese Spring Rolls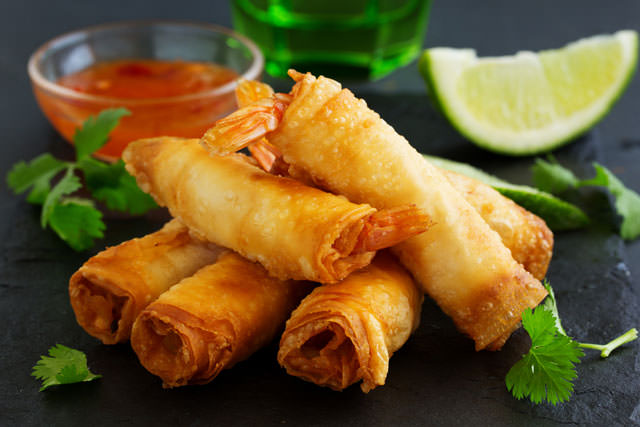 Spring rolls are so delicious, but unfortunately, they can be quite unhealthy with all the frying. This is why this Vietnamese version is so good for you – it brings all the wonderful flavor of one of the most beloved appetizers and turns it healthy by making it raw. Apart from the shrimp which will be cooked, of course.
Ingredients:
2 ounces rice vermicelli
8 rice wrappers (8.5 inch diameter)
8 large cooked shrimp – peeled and halved
1 1/3 tablespoons fresh Thai basil, chopped
3 tablespoons fresh mint leaves, chopped
3 tablespoons fresh cilantro, chopped
2 leaves lettuce, chopped
4 teaspoons fish sauce
1/4 cup water
2 tablespoons fresh lime juice
1 clove garlic, minced
2 tablespoons white sugar
1/2 teaspoon garlic chili sauce
3 tablespoons hoisin sauce
1 teaspoon finely chopped peanuts
Preparation:
Boil rice vermicelli in boiling water for 5 minutes or until al dente.
Fill a bowl with tepid water. Dip a wrapper in water for a second for it to soften. Place it on a flat surface and place 2 halves of shrimp, some vermicelli, mint, cilantro, lettuce and basil in a row in the center. Leave two inches on either side. Fold the uncovered sides inward and then roll the wrapper tightly along the longer sides.
Prepare the first sauce by mixing chili sauce, sugar, garlic, lime juice, water and fish sauce.
Prepare the second sauce by mixing hoisin and peanuts.
Serve the rolls with two sauces.
Bon Appetite!
From Around The Web
Popular on Diet.st