Gluten-Free Gingersnaps For A Perfect Winter Night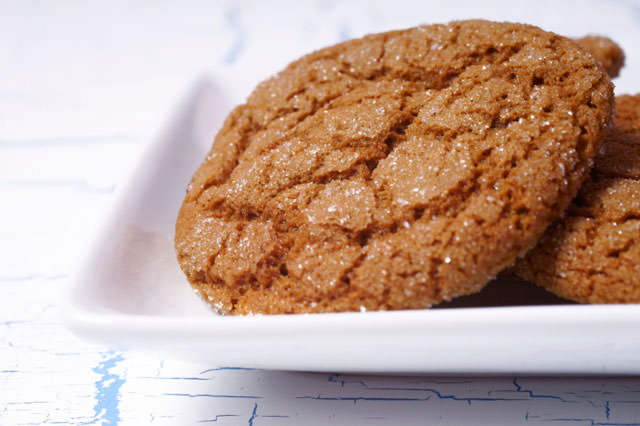 This time of year simply begs for gingersnaps. They are classic and humble cookies that taste old-fashioned and elegant. A subtle and spicy gingery bite snaps with a crunch to awaken your taste buds and nurture the minimalist mantra of "less is more".
Bon Appetite!
Ingredients
2⅔ cups gluten-free flour blend of choice
½ teaspoon ground cloves
¾ teaspoon ground ginger
1 teaspoon ground cinnamon
½ teaspoon baking soda
1¾ teaspoons xanthan gum
⅛ teaspoon salt
1 stick unsalted butter or non-dairy
margarine, melted (1 stick is 1/2 cup)
¼ cup molasses
1 cup sugar
1 large egg
sugar for topping
Preparation
Preheat oven to 350 degrees. Lightly grease a cookie sheet.
Mix together flour blend, cloves, ginger, cinnamon, baking soda, xanthan gum and salt. Set aside.
In a bowl mix butter, molasses and sugar together. Beat in egg.
Slowly stir in dry ingredients. Dough will be sticky. Refrigerate for several hours.
Divide dough into three equal parts. Roll into logs between 1/2 to 2-inches thick, depending on the size of your cookies.
Cut logs in slices about ¼ to 1/3-inch thick. Press both sides of each slice in sugar. Place on cookie sheet, leaving 2 inches between each cookie.
Bake in preheated oven for 8 to 10 minutes. Cool completely and transfer to a rack. Store cookies in an airtight container.
TIP
If the dough is too sticky to shape, place each portion of dough onto a piece of plastic wrap and roll it up. Refrigerate until dough is stiff enough.

From Around The Web
Popular on Diet.st