Greek Salad Recipe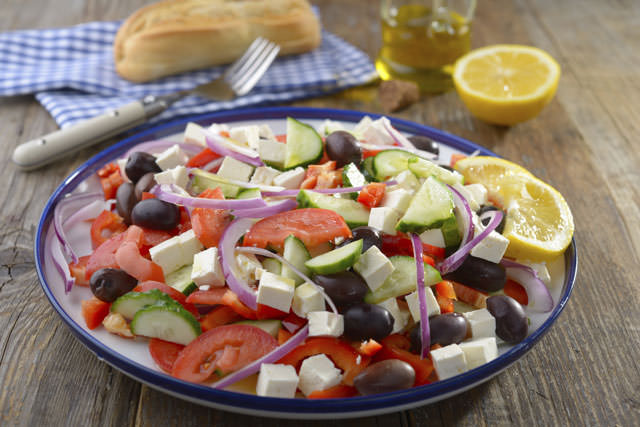 As fresh salads go this Greek staple is one of the healthiest salads around, full of fresh, raw vegetables. Serve it as a side dish or as a light meal with toast or good crusty homemade bread.
Ingredients
6 tbsp extra virgin olive oil
3 tbsp wine vinegar
2 tbsp lemon juice
1 clove garlic, minced
1/2 tsp dried oregano
1/4 tsp sea salt
1/4 tsp freshly ground black pepper
3 tomatoes, cut into wedges
1/2 red onion—sliced into rings
1 cucumber, sliced into thick half-moons
1/2 green pepper
4 oz (120g) feta cheese—cut into small cubes
16 kalamata olives
Directions
Combine the olive oil, vinegar, lemon juice and oregano in a small plastic container with a lid. Shake the container to blend the ingredients.
In a large bowl combine the vegetables and toss with dressing.
Season with salt and pepper to taste.
Cut feta into cubes and sprinkle on top.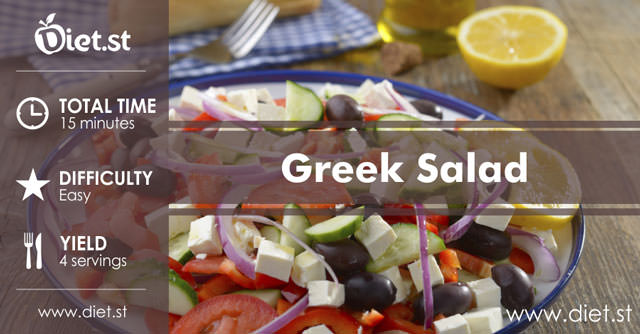 From Around The Web
Popular on Diet.st