Green Tea Pesto Pasta For Meat-Free Wednesdays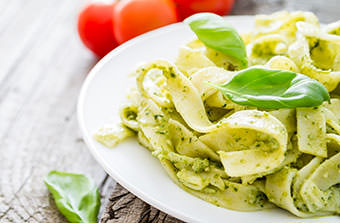 For a delicious meatless dinner, check out this amazing green pasta with super healthy green tea and spices. It represents a colorful springtime dish, which gets a nutrient boost from green peas and basil.
Bon Appetite!
Ingredients:
1/3 cup unsweetened freshly-brewed green tea, warm or chilled, or to taste
2 tablespoons pine nuts, pan-toasted
2 tablespoons extra-virgin olive oil
1 tablespoon fresh lemon juice
2 to 3 large cloves garlic
3/4 teaspoon sea salt, or to taste
1/8 teaspoon dried hot pepper flakes, or to taste
1/2 cup packed (3/4 ounce) fresh basil leaves + sprigs for garnish
1/2 cup fresh or frozen baby sweet peas
2/3 cup no-salt-added canned or cooked garbanzo beans
10 ounces pasta of choice
1 teaspoon lemon zest (optional)
Preparation:
Add the tea, pine nuts, oil, lemon juice, garlic, salt, hot pepper flakes, and basil leaves to a blender and puree into a smooth sauce. Add the peas and beans and puree until creamy. Adjust seasoning.
Cook the pasta according to package directions. Drain and return to the pan.
Add the creamy pesto and cook while stirring over low heat for about 2 minutes. Add additional tea if necessary for desired consistency. Adjust seasoning.
Transfer to a large serving bowl or individual bowls. Sprinkle with lemon zest, garnish with the basil sprigs, and serve.
From Around The Web
Popular on Diet.st