Grilled Lemon Ginger Shrimp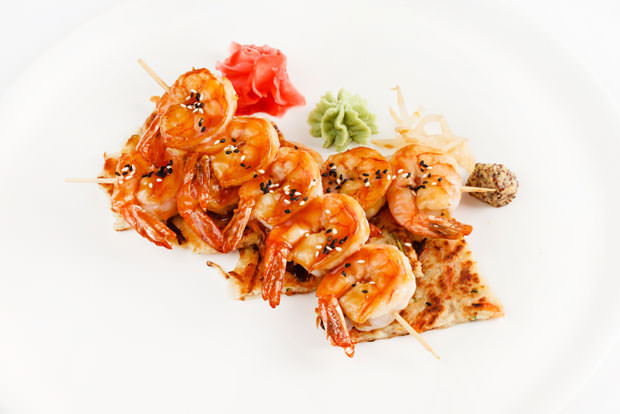 People often forget about shrimp when they do barbecues when in reality, one of the best ways to make your BBQs healthier is to start grilling shrimp. This is a light and super healthy way to enjoy everyone's favorite residents of the sea. Fun too.
Ingredients:
3 pounds jumbo shrimp, peeled and deveined
1/2 cup olive oil
2 teaspoons sesame oil
1/4 cup lemon juice
1 onion, chopped
2 cloves garlic, peeled
2 tablespoons fresh ginger root, grated
2 tablespoons fresh cilantro leaves, minced
1 teaspoon paprika
1/2 teaspoon salt
1/2 teaspoon ground black pepper
Skewers
Preparation:
Put the olive oil, lemon juice, sesame oil, garlic, onion, cilantro, ginger, paprika, salt and pepper in a food processor or a blender. Blitz until smooth. Take a small portion of it and save for basting.
Pour the rest in a dish, put in the shrimp and stir to marinate the shrimp. Put in the refrigerator for about 2 hours.
Preheat the grill, skewer the shrimp once near the head and once near the tail.
Slightly oil the grill grate. Grill the skewered shrimp for about 3 minutes on each side. Baste regularly with the sauce you reserved earlier.
Bon Appetite!
From Around The Web
Popular on Diet.st