Guilt-Free Diabetes-Friendly Oatmeal Cherry Cookies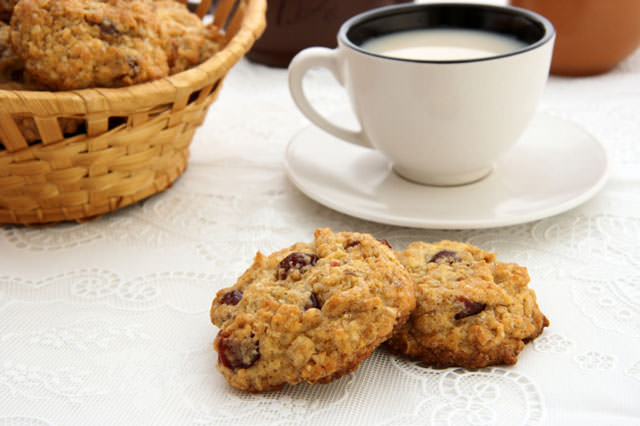 What makes these tasty oatmeal cookies even more delicious is the natural sweetness of dried cherries. Studies have found that this fruit helps you keep your body slim, prevents inflammation processes linked to heart disease, and keep bad cholesterol balanced. These cookies are also low in fat, so there's a benefit for both your heart and waistline.
Bon Appetite!
Ingredients
1 cup whole grain pastry flour
1 teaspoon baking powder
1/2 teaspoon ground cinnamon
1/2 teaspoon baking soda
1/2 teaspoon salt
1/2 cup packed brown sugar
1/3 cup granulated sugar
1/4 cup unsweetened applesauce
2 tablespoons canola oil
1 large egg
1 teaspoon vanilla extract
1 1/2 cups old-fashioned rolled oats
3/4 cup dried cherries
Preparation
Preheat the oven to 375°F. Coat 2 large baking sheets with cooking spray.
In a bowl, mix the flour, baking powder, cinnamon, baking soda, and salt.
In a large bowl, combine the brown sugar and granulated sugar, applesauce, oil, egg, and vanilla. Stir until blended. Add the flour mixture and stir. Stir in the oats and cherries.
Drop the batter by rounded teaspoonfuls, 2″ apart, onto the baking sheets. Bake for 10 to 12 minutes, until golden brown. Let stand for 2 minutes before removing to a rack to cool.
From Around The Web
Popular on Diet.st
Newsletter

Latest

You May Like