Healthy And Spicy Pumpkin Soup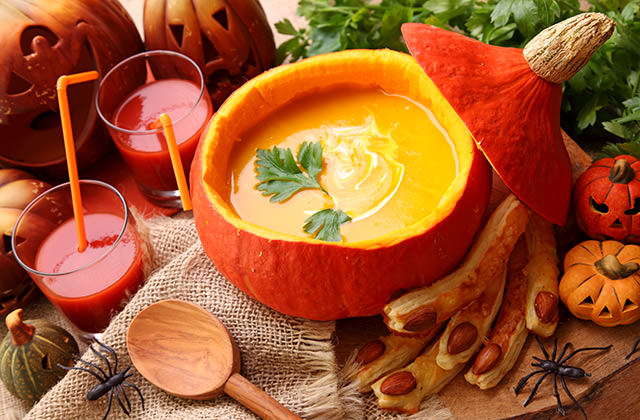 Warm, comforting and great for all seasons, this soup will give just the right amount of energy and taste. It is great for a delicious appetizer or lunch.
Bon Appetite!
Ingredients:
2 teaspoons coconut oil
1 yellow onion, diced
4 garlic cloves, minced
2 cups pumpkin, peeled and small dice
2 cups vegetable broth, more as needed
2 cups of coconut milk
1 bay leaf
¼ teaspoon dried thyme
2 tablespoons red curry paste
½ teaspoon nutmeg
sea salt and pepper
4 tablespoons pumpkin seeds
4 tablespoons fresh cilantro
Preparation:
In a pot, heat coconut oil over medium heat. Add the onions, garlic and pumpkin and cook 4-5 minutes.
Add the stock, coconut milk, bay leaf, and thyme and curry paste and cook for 15-20 minutes, adding more stock as needed.
Take off the heat, remove the bay leaf and puree with a blender.
Place back on the stove and add the nutmeg and season with salt and pepper as desired. Heat until warmed through.
To serve, place the soup in a bowl and top with the pumpkin seeds and chopped cilantro.
From Around The Web
Popular on Diet.st