Healthy Banana And Blueberry Bread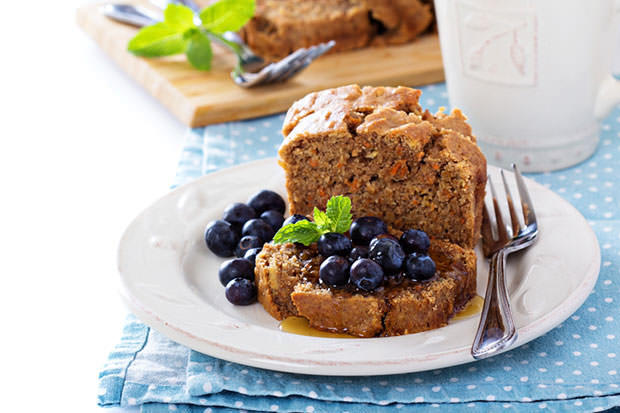 This sweet and delicious bread is a favorite among children. It's super easy to make, can last for several days, and is healthy.
Bon Appetite!
Ingredients:
2 cups self-rising flour
1 teaspoon bicarbonate of soda
1 teaspoon ground cinnamon
½ cup caster sugar
¾ cup buttermilk
¼ cup vegetable oil
2 eggs
1 teaspoon vanilla extract
1 overripe banana, mashed
1 cup fresh or frozen blueberries
Extra 1 banana, sliced
Preparation:
Preheat fan-forced oven to 190C/170C. Grease a loaf pan. Line base and the two longer sides with baking paper, extending paper 1cm above edges.
Sift flour, bicarbonate of soda and cinnamon in a large bowl. Stir in sugar. Whisk buttermilk, oil, eggs, vanilla and mashed banana in a medium bowl. Add buttermilk mixture to flour mixture. Stir until just combined. Fold in blueberries.
Spoon into prepared pan. Smooth top. Arrange extra banana over batter.
Bake for 15 minutes or until a skewer inserted into center comes out clean. Cool in pan for 5 minutes. Turn, top-side up, onto a wire rack to cool completely. Store in an airtight container at room temperature.
From Around The Web
Popular on Diet.st