How To Safely Switch To A Vegan Diet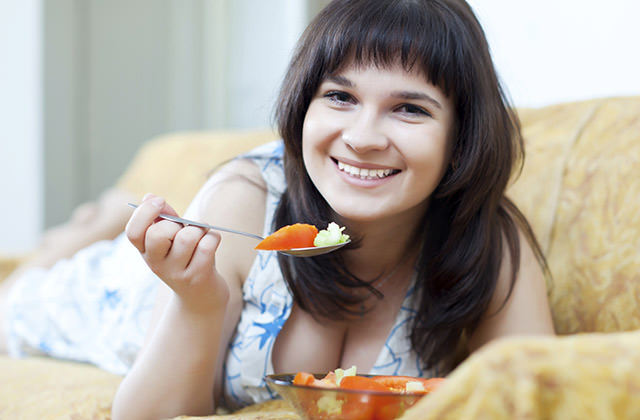 Yes, eating less meat is excellent for your health. It allows you to put less of a strain on your organism because, as we all know, it's much more difficult for our bodies to process meat than it is vegetables and other foods.
Of course, the benefits of switching to a vegan diet do not stop there. The positive impact such a diet could have on the planet is incredible.
Here are some tips from The Globe And Mail about making the transition:
"Start with the familiar
Identify plant-based meals you are already eating (e.g., chickpea curry, veggie burgers, tofu stir-fry, black-bean tacos or a green salad with lentils) and rotate them into your menu more often. Even a breakfast of fruit and whole-grain toast spread with almond butter counts as a plant-based meal. And if you haven't already, make it routine by instituting "meatless Monday."
Shift the focus of your plate
Downsize the importance of meat, poultry, fish and eggs at meals. Three quarters of your plate should be filled with plant foods such as grains, legumes, fruits and vegetables. Aim for all your meals to be 75-per-cent plant-based.
To do so, add more plant foods to your meals. Increasing the proportion of plant foods at your meals means you'll be cutting back on your intake of animal foods.
Eliminate animal foods you don't eat often
Think about your diet. Is there an animal food – or two – that you eat infrequently? Red meat? Eggs? Milk? This will be the easiest food to drop completely since you'll hardly miss it. For many of my clients – myself included – red meat is the first to go.
Eat plant-based snacks
Vegan snack ideas include fruit and nuts, raw vegetables and hummus, whole-grain crackers and nut or seed butter, bean soup, soy lattes, soy smoothies and plant-based energy bars such as Larabar, Kind Bar, Simply Protein Bar, Vega Snack Bar and Genuine Health's Vegan Proteins+ Bar.
Look beyond dairy
Fortified plant beverages made from soy, rice, almond, hemp, oats or coconut provide just as much calcium, B12 and vitamin D as cow's milk. Only soy beverages, however, are a good source of protein matching what's found in milk (8 grams a cup).
To cut added sugar, choose an unsweetened plant beverage. Use a milk alternative any place you'd normally use dairy milk: over cereals in smoothies and shakes, in French toast and pancake recipes, in cream-style soups and in coffee and tea.
Consider convenience
Keep it simple when starting out. If cooking plant-based meals from scratch seems overwhelming to you, take advantage of vegetarian convenience foods such as bean soups or frozen entrees such as tofu lasagna, pad thai, lentil curry, vegetable pot pie, rice and bean burritos or soy-cheese pizzas. Companies such as Yves Veggie Cuisine and Loblaws offer a variety of protein-rich, meat-free patties, burgers, crumbles and vegetarian "chicken" products that can be used in place of meat and poultry in many recipes.
I'm not suggesting you make these foods steady fare. While they don't have the saturated fat and cholesterol found in animal-based foods, many can be high in sodium. When you do eat convenience foods, read labels to choose ones that are lower in sodium.
Rethink your restaurant choices
One of the easiest ways to go vegan when dining out is to explore ethnic cuisine. Restaurants that specialize in Indian, Thai, Japanese, Chinese, Mexican and Middle Eastern cuisine offer a variety of plant-based meals.
Explore vegan cookbooks
Browse the vegetarian-cookbook section at the local library or bookstore to find one you like. Then begin experimenting with plant-based foods and recipes. Or, buy a magazine devoted to vegan cooking (e.g., VegNews, Vegetarian Times) to help you build a repertoire of vegan meals."
From Around The Web
Popular on Diet.st