Lemon Chicken Piccata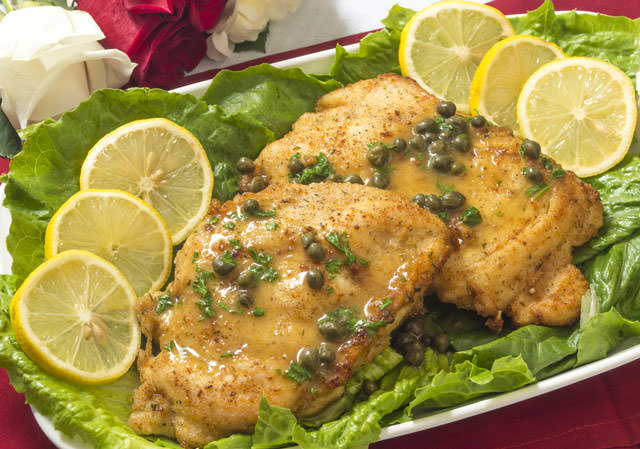 There are very few combinations that work as well as the chicken-lemon one. Today's recipe is all about this, leaving you with a mouth-watering dish everyone will love, but which is really easy to make.
Ingredients:
3 large skinless, boneless chicken breast halves
salt and pepper to taste
1/2 cup all-purpose flour
2 tablespoons vegetable oil
1 clove garlic, minced
1 cup low sodium chicken broth
1/2 lemon, thinly sliced
1/4 cup fresh lemon juice
2 tablespoons capers
3 tablespoons butter 
tablespoons minced Italian parsley
Preparation:
Heat the oven to 200 degrees F and warm a platter in it.
Cut the chicken breast into ½ inch medallions. Season them with salt and peper and roll in flour. Brush the excess flour off the medallions. Heat vegetable oil in a pan and fry the chicken until golden brown on both sides. Make sure not to crowd the pan.
Put the chicken pieces on the warm platter.
Use leftover vegetable oil to cook the minced garlic, no longer than 20 seconds. Pour the chicken broth into the pan. Make sure to get all the brown bits that chicken left. Put in the lemon slices and bring to a boil. Cook it for 5 to 8 minutes, occasionally stirring.
Once the sauce is somewhat reduced, add capers and lemon juice and cook for 5 more minutes. Once it has reduced even further, add the butter and let it dissolve and mix with the sauce. Add parsley.
Pour the sauce over chicken medallions and serve.
Bon Appetite!
From Around The Web
Popular on Diet.st