Light Low-Fat Fish Cakes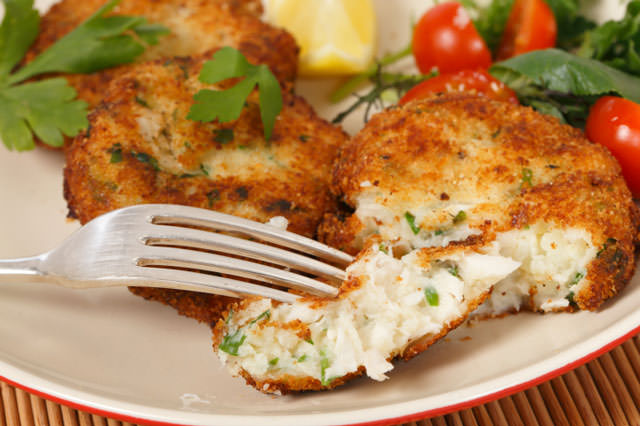 These tasty little cod cakes are great to have on hand in the freezer, so you can have them ready for dinner parties whenever you like. Serve the cakes with your favorite sauces or vegetables. Every bite will melt in your mouth, and the taste is much better than the store-bought kind.
Bon Appetite!
Ingredients
1 pound fresh cod fillet
2 tablespoons olive oil
1 large egg, beaten
1/4 cup sliced scallions
2 tablespoons vegan mayonnaise
1 tablespoon lemon juice
2 tablespoons mustard
6 tablespoons breadcrumbs
3 tablespoons chopped fresh parsley
3 dashes hot sauce, such as Tabasco
Salt and ground pepper
Preparation
Preheat oven to 400 degrees. Rub cod with a tablespoon of oil, and place in a baking dish. Roast in oven until cooked, 15 to 20 mins. Let it cool, then pat dry using paper towels. Flake with a fork.
In a bowl, mix cod, egg, scallions, mayonnaise, lemon juice, mustard, breadcrumbs, parsley, hot sauce, 1/8 teaspoon salt, and 1/8 teaspoon pepper. Mix until they all hold together.
Form mixture into eight patties. Freeze until firm, then wrap each in plastic and store in re-sealable bags, up to 1 month. Thaw before cooking.
To serve heat 1 tablespoon oil in a large skillet over medium heat. Cook until golden brown, about 2 minutes on each side. Serve hot.
From Around The Web
Popular on Diet.st