Low-Cal Roasted Cauliflower With Olive Oil Vinaigrette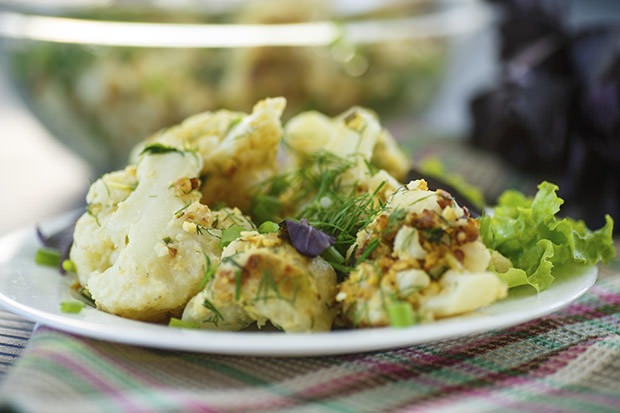 Boost your brainpower with this delicious roasted cruciferous veggie containing the nutrient choline, which has been linked to improved decision-making, reasoning, and memory. Stay healthy and smart!
Bon Appetite!
Ingredients:
3 pounds cauliflower, preferably baby, cut into 3/4-inch slices
4 tablespoons olive oil, divided
Pinch of salt
1/2 teaspoon freshly ground black pepper, divided
1 garlic clove
1/3 cup brine-cured pitted olives, finely chopped
1 teaspoon finely grated lemon zest
1 tablespoon fresh lemon juice
Preparation:
Preheat oven to 450° with racks in upper and lower thirds. Line 2 large baking pans with foil.
Arrange cauliflower on baking pans and drizzle with 2 tablespoons oil, salt, and 1/4 teaspoon pepper. Roast, switching position of pans after 15 minutes, until golden in spots and tender.
While cauliflower roasts, mince and mash garlic to a paste and place in a small bowl; whisk in remaining 2 tablespoons oil, olives, lemon zest and juice, and remaining 1/4 teaspoon pepper. Arrange cauliflower on a platter and drizzle with vinaigrette.
From Around The Web
Popular on Diet.st