Low-Cal Shrimp Salad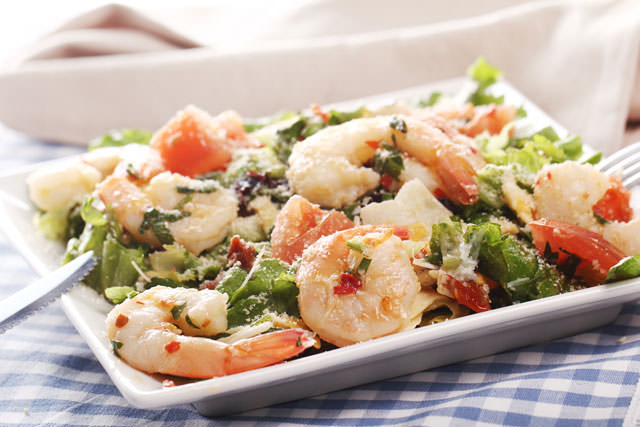 This is a fantastic salad that you can make with butter lettuce and shrimp that can be sauteed in both butter and lemon. Choose your favorite dressing to top it with – just make sure not to put too much! The taste of shrimp should still be the first thing your taste buds notice.
Bon Appétit!
Ingredients:
1 pound peeled, medium shrimp
2 lemons, juiced
2 heads butter lettuce
2 chopped tomatoes
2 tablespoons butter
1 avocado
1/2 cup shredded carrots
1 cucumber
2 stalks celery
1/3 cup vinaigrette
salad dressing
Preparation:
Take a large pan and slap the butter into it until melted. Pour some lemon juice and add the shrimp, then cook until pink. Remove and drain.
Take a large bowl and split the lettuce into small pieces, then add the tomatoes, celery, cucumber, avocado, and carrots. Mix it around a bit, then add the cooked shrimp, and toss to combine.
Top it all with your preferred dressing to taste.
From Around The Web
Popular on Diet.st