Low-Carb Chicken Cordon Bleu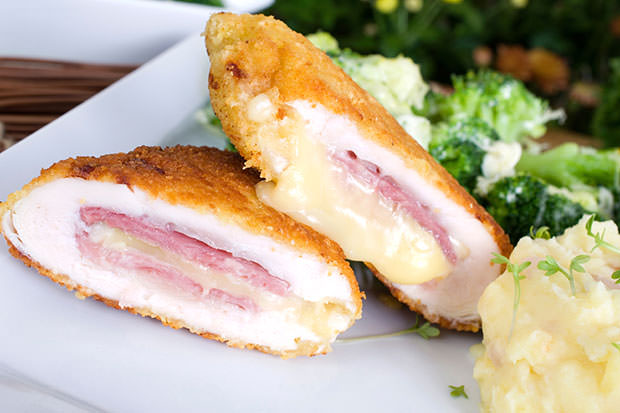 This is a delightful dish, and well-worth the trouble you'll have to go through to prepare it. The paprika and the white wine sauce make every chef who prepares this meal worthy of a 'cordon bleu' of their own.
Bon Appétit!
Ingredients:
6 skinless, boneless chicken breast halves
6 slices ham
6 slices cheese
1 teaspoon paprika
3 tablespoons all-purpose flour
1 teaspoon chicken bouillon granules
1 cup heavy whipping cream
1 tablespoon cornstarch
6 tablespoons butter
½ cup dry white wine
Preparation:
Hammer the chicken breasts if you happen to buy them too thick. Place a cheese slice and a ham slice on each breast, and make sure there's at least ½ inch from the edge. Fold the edges of the meat over the filling and put a toothpick into each to secure them. Mix the flour and paprika in a small bowl, then coat the chicken pieces with the mixture.
Heat the butter in a large skillet, and cook the chicken until it's nicely brown on all sides. Add the wine and bouillon, then reduce the heat to low, cover it, and let it simmer for 30 minutes. Wait until the chicken is no longer pink and you can see the juices running clear.
Remove the toothpicks and move the breasts to a warm platter. Take another small bowl, blend the cornstarch with the cream and slowly whisk it into the skillet. Cook until thick, and pour over the chicken. Make sure to serve it warm for best results, although it isn't half bad when eaten cold.
From Around The Web
Popular on Diet.st