Low-Fat Chocolate Biscotti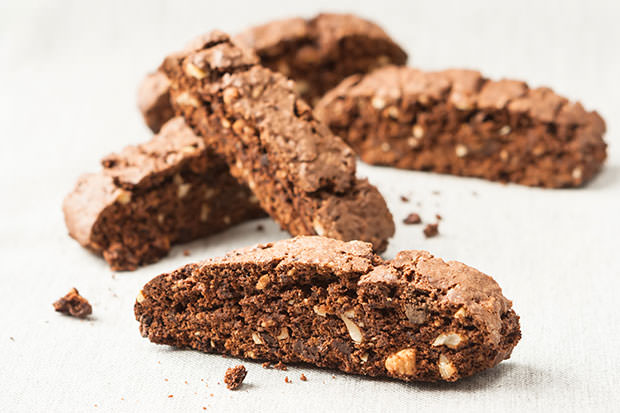 Total Time
1 hour 25 minutes
This recipe will take some of your time, but believe us, it's well worth the wait. Instead of dumping tons of chocolate, we opted for a lighter combination of ingredients, perfect if you're keeping an eye out for extra pounds.
Bon Appétit!
Ingredients:
2 cups sugar
¾ cup cocoa powder (unsweetened)
2 ½ cups all-purpose flour
5 eggs
1 teaspoon baking soda
1 teaspoon vanilla extract
1 cup blanched slivered almonds
Preparation:
Preheat your oven to 350 degrees F.
Combine all the ingredients (except the almonds) in a large bowl, then make sure to mix them well. Once mixed, put the almonds in the bowl and stir until blended well – the dough should be thick and somewhat sticky.
Take half of the dough and put it on a 10×15 inch cookie sheet. Optionally, you can coat the sheet in nonstick baking spray before placing the dough. Form a somewhat rounded 4×12 inch loaf from the dough, and make sure it's about three-quarters of an inch thick. Do the same with the other half of the dough on a second cookie sheet and let them bake for 30 minutes.
Remove from oven and reduce the heat to 325 degrees F, wait about 25 minutes for the loaves to cool, then cut them into half-inch thick slices. Cook the slices for another 15 minutes, turn them around and bake for another 15 minutes until they are very crisp. Allow to cool completely before serving.
From Around The Web
Popular on Diet.st