Low-Fat Cranberry-Lime Cheesecake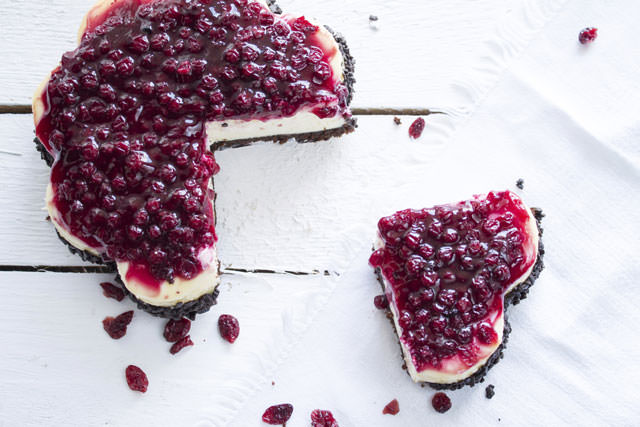 One bite of this light cranberry-lime cheesecake and it will become your favorite recipe for dessert. Part-skim ricotta cheese adds a delicate texture and lime gives it the freshness of the summer. It takes a bit of time to prepare, but you won't be sorry.
Bon Appetite!
Ingredients
Cheesecake:
1 cup graham cracker crumbs, preferably whole-wheat
1 tablespoon canola oil
1 15-ounce part-skim ricotta cheese
2 8-ounce reduced-fat cream cheese, at room temperature
2 limes, juiced
4 large eggs
1 cup sugar
1 teaspoon vanilla extract
1/2 teaspoon salt
Topping:
1 1/2 cups fresh cranberries
1/2 cup water
1/3 cup sugar
Pinch of salt
1 lime, juiced
1 tablespoon cornstarch
Preparation
To prepare cheesecake:
Preheat oven to 325°F. Coat a 9-inch springform pan with cooking spray. Tightly wrap the outside of the pan, bottom and sides, with a large piece of heavy-duty foil. Put a kettle of water on to boil for the water bath.
Combine graham cracker crumbs and oil in a bowl. Press into the bottom of the prepared pan.
Process ricotta in a food processor until smooth. Add cream cheese and puree. Add 2 teaspoons of the lime zest, 5 tablespoons of the lime juice, eggs, 1 cup sugar, vanilla and 1/2 teaspoon salt; process until smooth. Scrape into the prepared crust.
Place the cheesecake in a roasting pan. Pour enough boiling water into the roasting pan to come 1 inch up the side of the springform pan to create a hot water bath. Carefully transfer the roasting pan to the center of the oven. Bake the cheesecake until set around the edges but the center still jiggles slightly, 1 1/4 to 1 1/2 hours.
Transfer the roasting pan to a wire rack. Let the cheesecake cool in the water bath until the water is room temperature, about 2 hours.
Remove the pan from the water. Remove the foil. Refrigerate, uncovered, until very cold, at least 3 hours.
To prepare topping:
Combine cranberries, water, 1/3 cup sugar and pinch of salt in a medium saucepan. Bring to a boil. Combine 2 tablespoons lime juice and cornstarch; stir into the pan. Cook, stirring, until thickened, about 1 minute. Let cool completely before spooning onto the cake.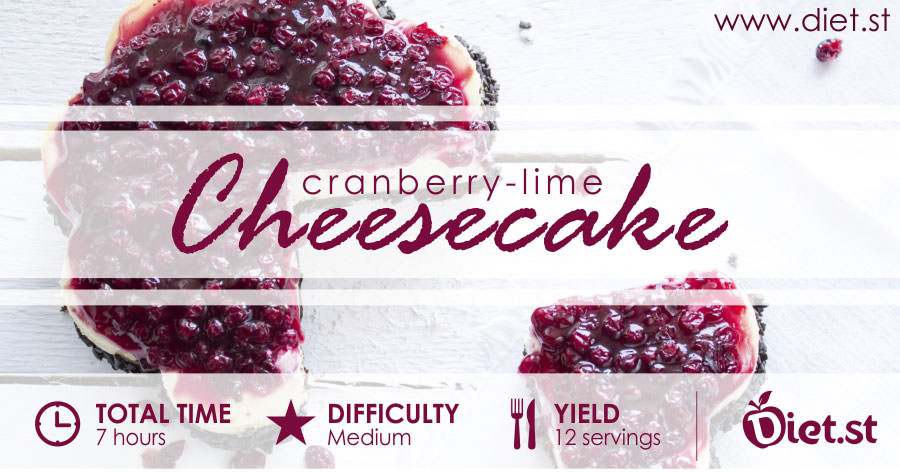 From Around The Web
Popular on Diet.st