Low-Fat Creamy Chicken Potpie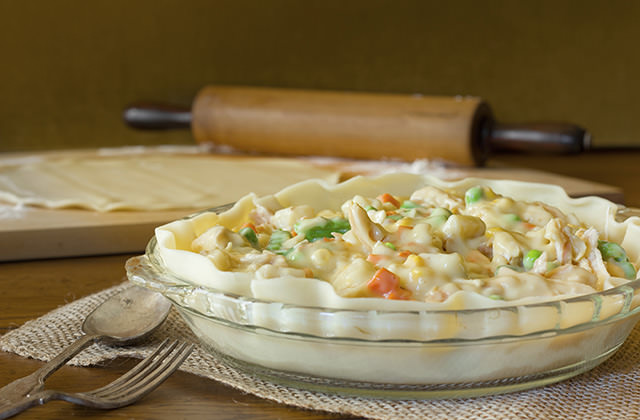 Total Time
Total time: 45 mins
When you need full flavor and you want to avoid that feeling of guilt for having too much, consider this creamy chicken potpie. It has only 382 calories and 11 grams of fat. What more could you possibly need from this deliciousness?
Bon Appetite!
Ingredients:
4 teaspoons extra-virgin olive oil, divided
1 pound boneless, skinless chicken breast, cut into 1/2-inch cubes
1 cup sliced shallots
1 10- or 12-ounce bag frozen mixed vegetables, thawed
1/4 teaspoon dried thyme
2 cups reduced-sodium chicken broth
1/4 cup cornstarch
1/4 cup reduced-fat sour cream
1/4 teaspoon salt
1/4 teaspoon ground pepper
6 sheets 9-by-14-inch phyllo dough, defrosted
Cooking spray (olive or canola oil)
Preparation:
Preheat oven to 425°F.
Heat 2 teaspoons oil in a large nonstick skillet over medium-high heat. Add chicken, cook, stirring, 2 to 3 minutes. Remove to a plate. Add the remaining 2 teaspoons oil and shallots, reduce heat to medium and cook, stirring, until slightly softened, 2 to 3 minutes. Stir in vegetables and thyme, cook, stirring, until hot, 2 to 4 minutes. Pour in 1 3/4 cups broth and bring to a boil. Whisk the remaining 1/4 cup broth and cornstarch in a small bowl and add to the pan. Return to a boil and cook until thickened, about 1 minute. Off the heat, stir in the chicken, sour cream, salt and pepper. Divide the mixture among four 12-ounce ovenproof baking dishes.
Make 2 stacks of 3 sheets of phyllo each, coating each sheet lightly with cooking spray. Cut the stacks in half crosswise. Drape one half over each baking dish. Tuck in any overhanging edges.
Set the potpies on a baking sheet. Bake until the tops are golden and the filling bubbly, 18 to 20 minutes.
From Around The Web
Popular on Diet.st