Low-Fat Pepperoni Pizza? It's Possible.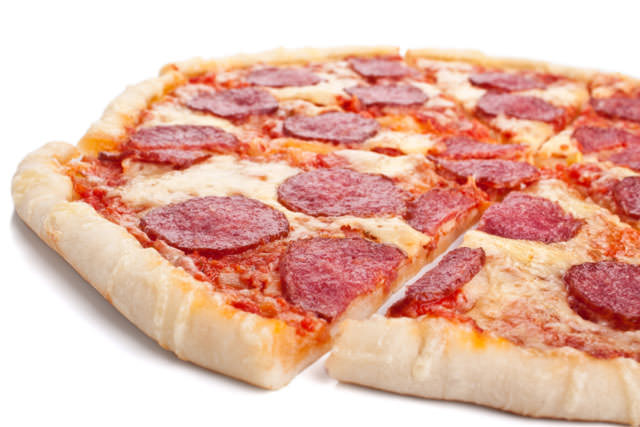 With less than 15 grams of fat and only 346 calories per serving, this delicious classic is absolutely guilt-free and still not losing any of its magic. All you need to do is find a quality substitute for the usual ingredients, and never feel guilty for having one more slice.
Bon Appetite!
Ingredients
Cooking spray
2 cups thinly sliced cremini mushrooms (about 4 ounces)
Basic Pizza Dough
2 teaspoons olive oil
Basic Pizza Sauce
1 1/2 cups (6 ounces) shredded part-skim mozzarella cheese
2 tablespoons grated fresh Parmesan cheese
2 ounces sliced turkey pepperoni
Preparation
Position one oven rack in the middle setting. Position another rack in the lowest setting, and place a rimless baking sheet on the bottom rack. Preheat oven to 500°.
Heat a large nonstick skillet over medium-high heat. Coat pan with cooking spray. Add sliced mushrooms, and sauté for 5 minutes, until moisture evaporates.
Remove plastic wrap from Basic Pizza Dough and discard. Brush oil over dough. Remove preheated baking sheet from oven. Slide dough onto baking sheet, using a spatula. Bake on lowest oven rack at 500° for 8 minutes. Remove from oven.
Spread Basic Pizza Sauce in an even layer over crust, leaving a 1/4-inch border. Top sauce with mushrooms. Sprinkle mushrooms evenly with mozzarella and Parmesan. Arrange pepperoni in an even layer on top of cheese. Bake on middle rack an additional 10 minutes. Cut into 12 wedges.
From Around The Web
Popular on Diet.st