Low-Fat Quinoa And Black Beans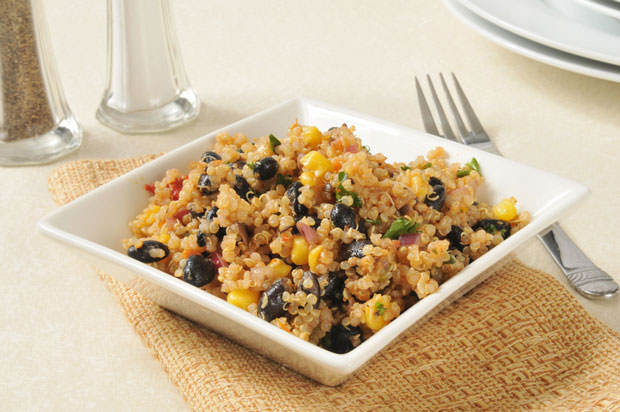 This delicious alternative to black beans and rice will suit your every need. Quinoa is a nutty grain from South America and is available pretty much everywhere.
Bon Appétit!
Ingredients:
1 teaspoon vegetable oil
1 1/2 cups vegetable broth
1 onion, chopped
3/4 cup quinoa
2 (15 ounce) cans black beans, rinsed and drained
salt and ground black pepper to taste
1 teaspoon ground cumin
1/4 teaspoon cayenne pepper
3 cloves garlic, chopped
1 cup frozen corn kernels
1/2 cup chopped fresh cilantro
Preparation:
Heat the oil in a pan over medium heat; cook and stir the onion and garlic for about 10 minutes.
Put the quinoa into the onion mixture and cover it with vegetable broth; add the cumin, cayenne pepper, salt and pepper. Boil the entire mixture, then cover it, reduce the heat and simmer until the quinoa is tender, about 20 minutes.
Add the frozen corn into the pan and continue to simmer until it's heated through (about 5 minutes). Add the black beans and cilantro.
From Around The Web
Popular on Diet.st