Low-Fat Turkey Burger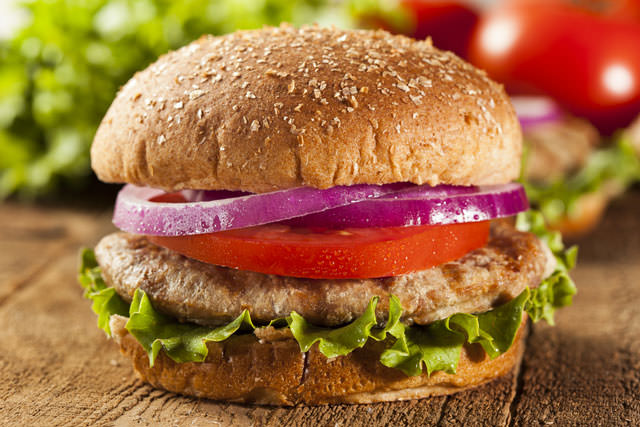 Total Time
1 hour 30 minutes
Celebrate National Burger Day this year with a burger! Here's a recipe for a healthy turkey burger that's 95% fat-free – delicious, healthy and true to the tradition, what more can you ask for?
Bon Appétit!
Ingredients
1 1/2 pounds ground turkey
1 1/2 tablespoons ground almonds
1 teaspoon chile paste
2 cloves garlic, crushed and minced
1 1/2 tablespoons plain bread crumbs
1 1/2 teaspoons salt
2 tablespoons chopped fresh cilantro
1 1/2 teaspoons garam masala
1 1/2 teaspoons finely grated fresh ginger
2 tablespoons plain yogurt
1 tablespoon lemon juice
Preparation
Put together the turkey, almonds, breadcrumbs, chili paste, ginger, salt, garlic, garam masala, yogurt, cilantro and lemon juice; mix it thoroughly with a spatula (you can use your hands too, make sure to wash them first!).
Make the turkey mixture ball-shaped and divide it into 4 even pieces, then put into your fridge for 1 hour. Form each piece into a patty.
Preheat your grill to medium and keep the patties until the grill is ready. Grill the burgers until patty appears to be cooked about half way, then flip. You should grill each side for about 5 minutes. You will know that you are done when the surface of the burgers cracks and the juices start to climb to the top.
From Around The Web
Popular on Diet.st