Low-Fat Vegetarian Korma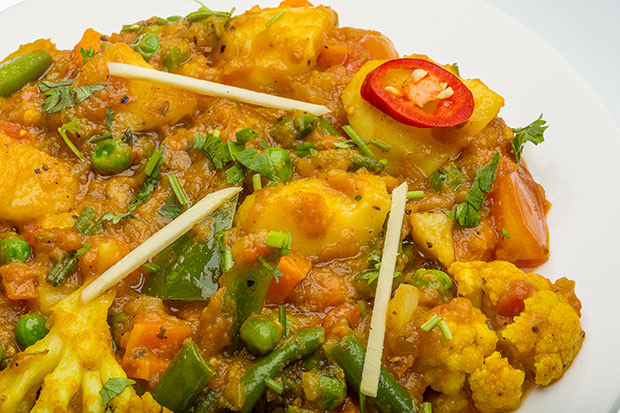 Taste the exotic flavours of Indian cuisine with this creamy, spicy and extremely rich dish. Best served with naan and rice.
Bon Appétit!
Ingredients:
1 small, diced onion
1 ½ tablespoons vegetable oil
4 cloves minced garlic
2 cubed potatoes
4 cubed carrots
1 teaspoon minced ginger root (fresh)
3 tablespoons ground unsalted cashews
1 fresh jalapeno pepper, sliced and seeded
2 teaspoons salt
1 can tomato sauce (4 ounce)
1 cup frozen green peas
½ green bell pepper
½ red bell pepper
1 bunch fresh cilantro for garnish
1 ½ tablespoons curry powder
1 cup heavy cream
Preparation:
Heat the oil over medium heat in a skillet. Stir the onion and cook until it is tender. Put in the ginger and garlic, and keep cooking for 1 more minute.
Mix potateos, carrots, cashews, tomato sauce and the jalapeno, season it with salt and curry powder, then cook and stir for 10 minutes.
Stir peas, red bell pepper, green bell pepper and cream into the skillet. Reduce the heat and let it simmer for 10 minutes. Then garnish with cilantro before serving.
From Around The Web
Popular on Diet.st