Luscious Winter Tortellini Tomato Spinach Soup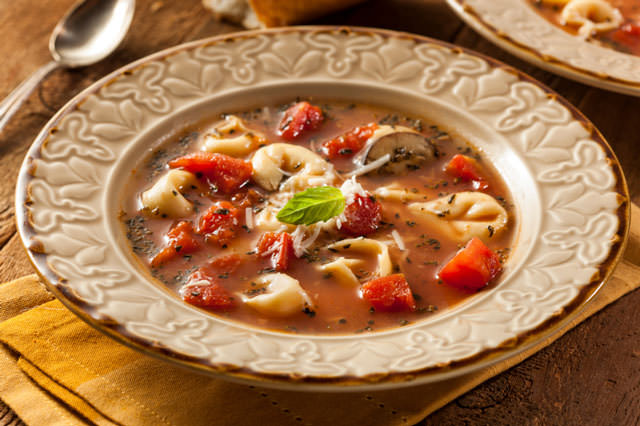 This winter soup is like eating Tomato Soup with a bunch of amazing stuff in it, like pasta and superfood spinach. If you want to dip your grilled cheese in there, you should do it! It's so lovely, hearty and rich, but also light at the same time. The best part is that it takes about 30 minutes, from start to finish.
Bon Appetite!
Ingredients
1 tablespoon olive oil
1/2 cup minced onion (about 1/2 small onion)
1 garlic clove, minced
4 -6 cups chicken broth or 4 -6 cups vegetable broth
1 (14 ounce) can whole tomatoes, coarsely chopped
1 (9 ounce) package fresh tortellini or 1 (9 ounce) package dried tortellini
kosher salt
black pepper
10 ounces fresh spinach or 10 ounces frozen spinach, defrosted and chopped
1/4 cup freshly grated parmesan cheese (optional)
Preparation
In a pot, heat olive oil over medium high heat.
Saute the onion and garlic, stirring often until onions are translucent, about 5 to 7 minutes.
Add broth and tomatoes, turn heat up to high, and bring to a boil.
Add the tortellini and cook according to package instructions.
When tortellini is almost done, add spinach and taste, adjusting seasonings with salt and pepper.
Serve hot.
Garnish with a sprinkling of Parmesan.
From Around The Web
Popular on Diet.st