Meatless Wednesday: Smoked Cheddar And Lentil Burgers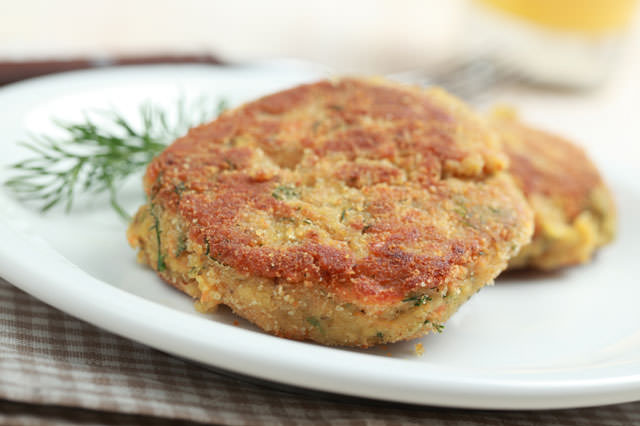 If we give up meat every Wednesday for a year it's the equivalent, in terms of greenhouse gases and emissions, of not driving a car for an entire month. Not only does going meatless one day a week make a difference for our planet, it also makes a difference in people's lives.
Ingredients
2 1/2 cups water
1 cup dried lentils
2 bay leaves
1 teaspoon olive oil
1 cup finely chopped onion
1/2 cup finely chopped carrot
1 cup shredded smoked cheddar cheese
1/2 cup dry breadcrumbs
2 teaspoons chopped fresh thyme
1 1/4 teaspoons salt
3/4 teaspoon garlic powder
3/4 teaspoon paprika
1/2 teaspoon freshly ground black pepper
1/4 teaspoon ground red pepper
3 large egg whites, lightly beaten
Cooking spray
8 teaspoons stone-ground mustard
8 (2-ounce) whole wheat sandwich buns, toasted
8 (1/4-inch-thick) slices tomato
2 cups trimmed arugula
Preparation
Place first 3 ingredients in a medium saucepan and bring to a boil. Cover, reduce heat, and simmer 30 minutes or until tender, then drain. Discard bay leaves. Place lentils in a large bowl; mash with a potato masher. Cool slightly.
Heat oil in a medium nonstick skillet over medium-high heat. Add onion and carrot, sauté 5 minutes or until tender.
Add onion mixture, cheese, and next 8 ingredients (cheese through egg whites) to lentils; stir well to combine. Cover and chill 45 minutes. Divide mixture into 8 equal portions, shaping each into a 1/2-inch-thick patty.
Heat a grill pan coated with cooking spray over medium-high heat. Add half of patties, and cook 5 minutes on each side or until done. Repeat procedure with remaining patties. Spread 1 teaspoon mustard on top half of each bun. Place 1 patty on bottom half of each bun, and top each serving with 1 tomato slice, 1/4 cup arugula, and top half of bun.
From Around The Web
Popular on Diet.st