Meatless Wednesday: Tempeh Balls With Green Beans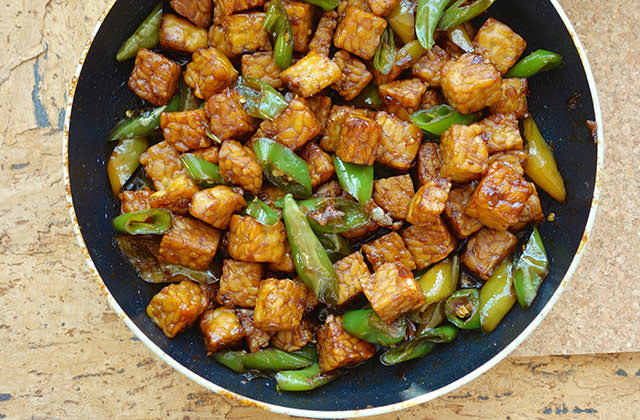 Tempeh is here turned into wonderful balls spiced with leek, garlic, cilantro, chili, ginger and lime juice. They are well-balanced by a miso apple lemongrass glaze and finished with green beans and a sprinkling of sesame seeds if you like.
Bon Appetite!
Ingredients:
1 stalk lemongrass
2 cups apple juice
1/3 cup onion, thinly sliced
or
1/3 cup leek, thinly sliced
2 cloves garlic, minced
1/4 cup cilantro
1 Thai chili, seeded and thinly sliced
1 inch fresh ginger, peeled and finely diced
1 tablespoon ground flax seed
8 ounces tempeh
1/4 cup low sodium tamari or soy sauce
juice from 1/2 lime
little canola oil, for baking the tempeh
1 pound green beans, trimmed
1 tablespoon light miso
sesame seeds, for garnish
Preparation:
Prepare a baking sheet with parchment paper. Preheat an oven to 350 degrees.
Peel the outer layer from the lemongrass and set aside. Thinly slice the inner stalk and set aside.
Place the apple juice in a large saucepan over medium high heat. Add the outer layer of lemongrass and bring to a gentle boil. Cook for about 10-15 minutes.
While the juice is reducing, place the sliced inner layer of lemongrass, onion or leek, garlic, cilantro, chili, ginger and flax seed into a food processor and pulse until combined.
Add the tempeh, soy sauce or tamari and lime juice to the food processor. Pulse to combine, taking care to intermittently scrape down the processor's walls with a spatula to ensure all ingredients are evenly distributed. If using flax seed, let the tempeh mixture rest for 10 minutes before baking.
Roll the tempeh mixture into balls the size of large marbles and place them on the baking sheet. Spray with a light layer of canola oil. Place the baking sheet in the oven and bake for 30 minutes, or until the tempeh is well browned.
Preheat a steamer filled with water. When the steamer is heated, steam the green beans for 5-7 minutes, or until cooked through, but still crisp.
Remove the lemon grass stalk from the reduced apple juice. Add the miso powder to the lemongrass apple glaze, stirring until fully incorporated.
Add the steamed green beans and spiced tempeh balls to the saucepan. Toss taking care to ensure the green beans and tempeh are coated in lemongrass apple glaze. Divide into 4 servings, garnish with a sprinkle of sesame seeds.
From Around The Web
Popular on Diet.st