Meatless Wednesday: Wonderful Vegan Broccoli Soup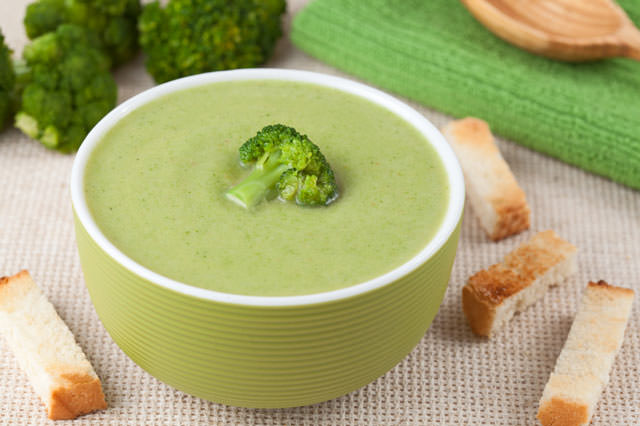 This Wednesday we decided to give you the perfect hangover cure – a creamy vegan broccoli soup. Broccoli can help you fight various cancers, and the creaminess will just melt your taste buds.
Bon Appetite!
 Ingredients
2 tablespoons extra-virgin olive oil
1 cup chopped onion
Kosher salt
1/2 cup chopped celery
1 clove garlic, smashed
Freshly ground black pepper
2 medium Yukon gold potatoes, peeled and diced
4 cups broccoli florets
1/2 cup unsweetened soy milk
1/4 cup nutritional yeast
1/4 teaspoon freshly grated nutmeg
Preparation
Heat the oil in a large saucepan over medium heat. Add the onions and 1/2 teaspoon salt and cook until light brown, about 7 minutes. Add the celery, garlic and 1/4 teaspoon pepper and cook for 5 minutes. Add the potatoes, 4 cups water and 1/2 teaspoon salt, raise the heat to high and bring to a boil. Return the heat to medium, cover and cook until the potatoes are tender, about 15 minutes. Add the broccoli, cover and cook until the broccoli is bright green, about 5 minutes.
Transfer the soup to a blender; add the soy milk and puree until smooth, leaving the filler cap slightly open to let steam escape (or puree the soup in the pot with an immersion blender). Return the soup to the saucepan and bring to a simmer; stir in the nutritional yeast and nutmeg. Add water if needed to adjust consistency and add salt and pepper to taste.
From Around The Web
Popular on Diet.st