Orange Roasted Salmon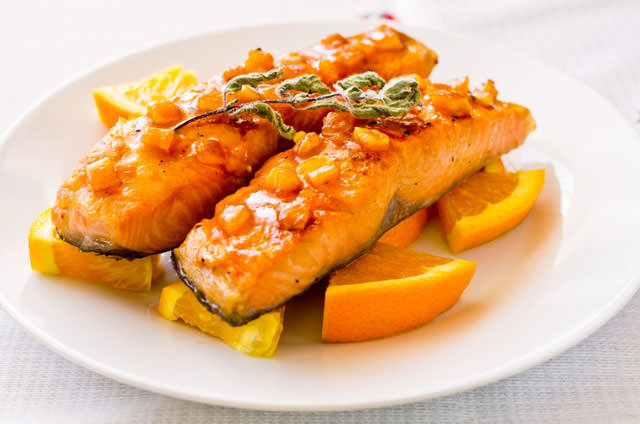 This is one fancy-looking, healthy and delicious meal that you can make when you want to impress. And the best thing about it is that it is not that difficult to make at all.
Ingredients:
1 1/2 teaspoons garlic powder
1 tablespoon dried parsley
1/2 cup orange juice
1 1/2 tablespoons lemon juice
2 oranges, sliced into rounds
1 onion, thinly sliced
1 1/2 tablespoons olive oil
5 (6 ounce) salmon fillets
1 tablespoon lemon pepper
Preparation:
Preheat your oven to 400 degrees F.
Stir together dried parsley, garlic powder and lemon pepper. Put slices from one orange at the bottom of a baking dish. Place a layer of onions over the oranges. Sprinkle a bit of olive oil and add half of the mixture.
Roast it for 25 minutes. Remove from the oven and increase the temp to 450 degrees F.
Move the orange and onions to outer edge and put salmon filets in the middle. Sprinkle salmon with the rest of the mixture.
Mix orange juice, honey and lemon juice in a bowl and then pour the mixture over the salmon fillets.
Bake the salmon for up to 15 minutes. Place the fillets on a serving dish and discard orange that has been roasted. Garnish with roasted onions and fresh slices of orange.
Bon Appetite!
From Around The Web
Popular on Diet.st