Pepperoni Pizza Casserole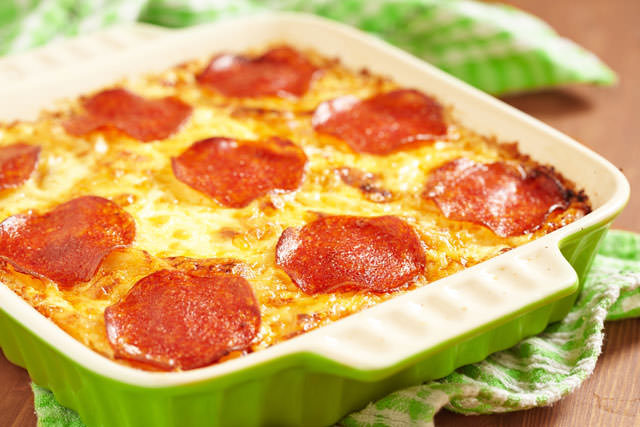 Everybody loves a good casserole and we've yet to find a person who doesn't like pizza. So, why not combine them into a single dish that will leave everyone begging for more? Let's get to it, then.
Ingredients
1 pound ground beef
1 jar spaghetti sauce
1 package coarsely chopped pepperoni
1 package uncooked egg noodles
20 ounces shredded mozzarella cheese
1 can sliced black olives, drained
1 can sliced mushrooms, drained
Preparation
Preheat your oven to 375 degrees.
Cook the ground beef over medium heat in a skillet until it's no longer pink (about 10 minutes).
Bring a large pot of water to a boil, then cook the egg noodles in the boiling water. Try not to overcook them, they still need to be slightly firm. This should take no more than 5 minutes. Drain the noodles after you are done.
Mix the noodles with the spaghetti sauce, mushrooms, black olives, pepperoni and half the mozzarella cheese in a large mixing bowl; spoon the mixture into a 9×13-inch baking dish and top with what's left of the mozzarella cheese, then cover the dish with foil.
Bake in the preheated oven until the casserole is bubbling, which should take around 30 to 45 minutes.
From Around The Web
Popular on Diet.st