Quinoa Veggie Salad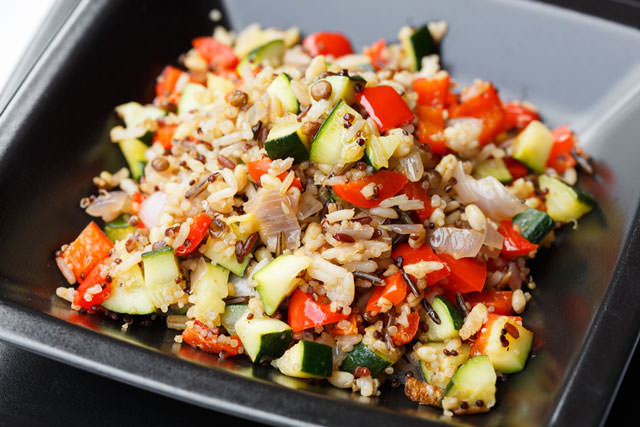 You cannot go wrong with this quinoa salad. It has everything your body needs and it is real easy to prepare. Did we mention it is also insanely delicious?
Ingredients:
2 1/2 cups water
salt to taste
1/4 teaspoon ground black pepper
2 cups quinoa
3/4 cup fresh tomato, diced
1 teaspoon canola oil
1 tablespoon garlic, minced
1/4 cup purple or yellow onion, diced
1/2 cup cucumber, diced
1/2 cup corn kernels
1/4 cup red onion, diced
3 tablespoons balsamic vinegar
1 1/2 tablespoons fresh cilantro, chopped
1 tablespoon fresh mint, chopped
1 teaspoon salt
1/4 teaspoon ground black pepper
2 tablespoons olive oil
Preparation:
Heat the canola oil to medium in a saucepan. Stir in ¼ cup onion and garlic and cook until the onion is translucent. Add water, salt and ¼ teaspoon black pepper. Bring to a boil.
Stir in the quinoa, reduce to low and cover. Cook for 20 minutes or until quinoa is tender. Drain the quinoa and move it to a large bowl. Put everything in the refrigerator.
Take out the chilled quinoa and add carrots, tomato, bell pepper, corn, cucumber and a ¼ cup red onion. Season with mint, cilantro, 1 teaspoon salt and the remaining black pepper. Drizzle with balsamic vinegar and olive oil. Stir until it's all evenly mixed.
Bon Appetite!
From Around The Web
Popular on Diet.st