Squash Soup In Pumpkin Bowl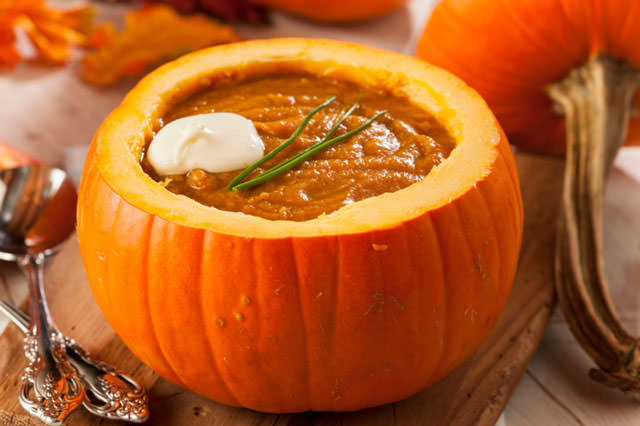 A hot, seasonal, tasty treat! It can be served as a hot appetizer or as an entrée for cold winter days. This is a healthy, low fat, vegetarian soup to melt your taste buds. Pumpkin is known to keep you young and make you feel good, so, this season, it is a must.
Ingredients
For the Bowl
1 large baking pumpkin
2 teaspoons sugar
Kosher salt
For the Soup
3 tablespoons unsalted butter
1/2 small chopped onion
Kosher salt
2 sprigs thyme
1 medium butternut or kuri squash, peeled and cut into 1-inch pieces
1 teaspoon sugar
3 tablespoons heavy cream (optional)
Freshly ground pepper
For the Toppings
Pepitas
Sourdough
Paprika or Spanish pimenton
Crisp prosciutto, serrano ham or bacon
Fried onions
Fried sage or parsley leaves
Preparation
Preheat the oven to 400 degrees F. Use a paring knife to cut a large circle around the stem of the pumpkin (you could also make a zigzag cut, to make it look a bit more interesting). Remove the lid and scoop out the seeds and fibers. Sprinkle the inside with 1/2 teaspoon each sugar and salt. Place the pumpkin and lid on a baking sheet; roast until tender, 20 to 35 minutes, depending on the size.
The soup: Melt the butter over low heat. Add the onion and 1 teaspoon salt. Strip the thyme leaves into the pot, increase the heat to medium and cook, stirring occasionally, until the onion is soft, which will take about 5 minutes. Add the squash and sugar. Cook and stir, until it's glazed, 3 to 4 minutes. Add 5 cups water and bring to a boil. Reduce the heat to low and simmer, until it becomes tender, for about 15 minutes.
Put the soup into a blender and puree until smooth; return to the saucepan. Stir in the heavy cream. Season with salt and pepper.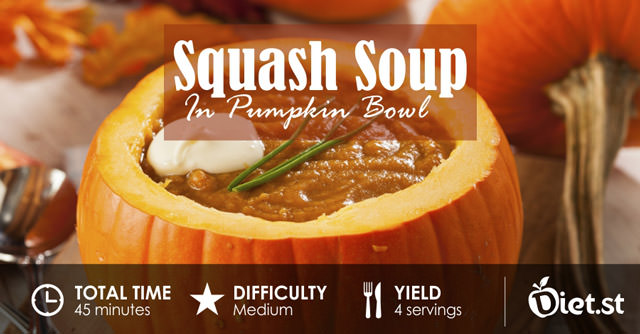 From Around The Web
Popular on Diet.st