Strawberry Spinach Salad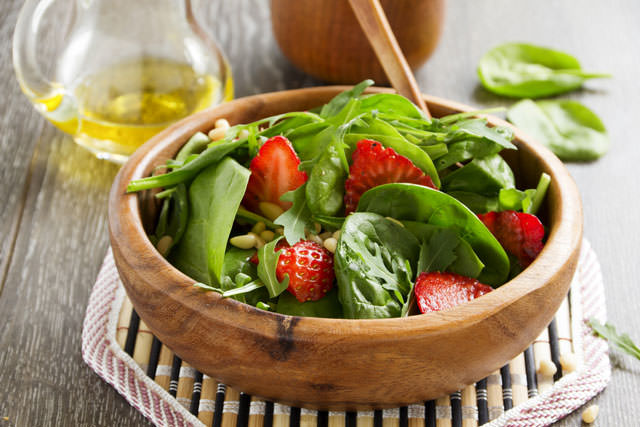 Total Time
1 hour 10 minutes
Though it may seem like an odd combination, this strawberry spinach salad is one of the best summer salads you can eat, both in terms of taste and health.
Bon Appétit!
Ingredients
10 ounces spinach
1 quart strawberries
2 tbsp. sesame seeds
1 tbsp. poppy seeds
1 tbsp. minced onion
¼ tbsp. paprika
¼ tbsp. Worcestershire sauce
½ cup white sugar
½ olive oil
¼ cup distilled white vinegar
¼ cup almonds
Preparation
Rinse spinach, then tear into small pieces. Clean, hull and slice strawberries.
Mix together the sesame seeds, poppy seeds, sugar, olive oil, vinegar, paprika, Worcestershire sauce and onion in a medium bowl. Cover and let cool for one hour.
Mix the spinach, strawberries and almonds in a large bowl. Pour dressing over salad, then refrigerate 10-15 minutes.
From Around The Web
Popular on Diet.st