Traditional Vegan Shepherd's Pie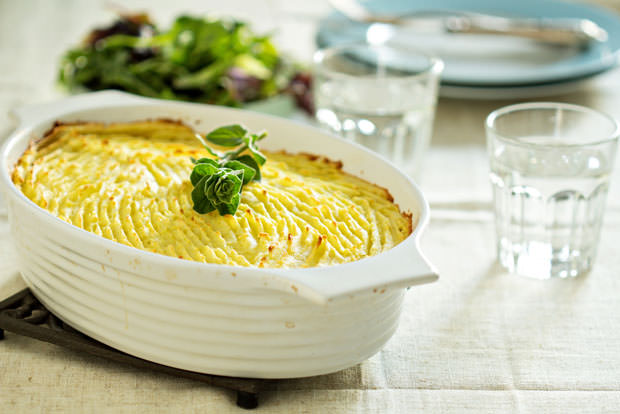 Total Time
1 hour 15 minutes
Like the classic pie your Mom used to make, just suited for all vegan needs. Packed with vitamins and nutritients, the best thing to chomp on an empty stomach.
Bon appétit!
Ingredients (comes in two layers):
Potato layer:
5 potatoes, peeled and cut into small cubes
½ cup vegan mayonnaise
½ cup soy milk
¼ cup olive oil
3 tablespoons vegan substitute for cream cheese
2 teaspoons salt
2 chopped carrots
3 stalks chopped celery
½ cup frozen peas
1 chopped tomato
1 teaspoon Italian seasoning
1 clove minced garlic
1 pinch ground black pepper
1 package vegetarian ground beef
Bottom layer:
1 tablespoon vegetable oil
1 chopped, large yellow onion
½ shredded soy cheese
Preparation:
Put the potatoes in a pot and cover them with cold water. Boil over medium heat, then turn the heat to medium-low and boil until the potatoes are tender (around 25 minutes).
Mix the mayonnaise, soy milk, olive oil, cream cheese and salt into the potatoes and mash with the potato masher until smooth. Put the mixture aside.
Preheat the oven to 200 degrees C and spray a 2-quart baking dish with cooking spray.
Heat the vegetable oil over medium heat, cook and mix the onion, carrots, frozen peas, celery and tomato until softened (around 10 minutes). Stir in the pepper, garlic and Italian seasoning.
Reduce the heat – no more than medium-low, put the vegetarian beef into the skillet with the vegetables. Cook and stir, break apart the meat until the mixture is hot (about 5 minutes).
Spread the vegan meat substitute into the bottom of the dish and fill the top with the mashed potatoes, smooth them evenly. Spray the potatoes with the shredded soy cheese.
Bake everything in the preheated oven. Wait until the cheese is finely melted and somewhat brown, and the casserole is hot. It should take no more than 20 minutes.
From Around The Web
Popular on Diet.st