Valentine's Day Vegan Moussaka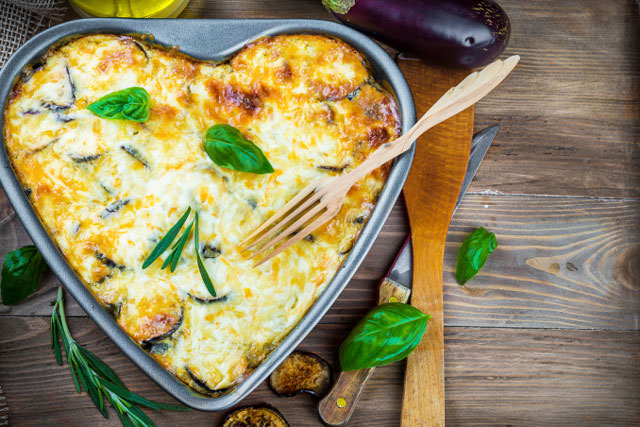 It's Valentine's Day, so, don't forget to surprise your partner with something prepared with love. It can be anything at all, if you put your heart in it. Enjoy our vegan moussaka. If you don't have a deep (3 inches) baking dish, make it in two separate dishes.
Bon Appetite!
Ingredients
5 large russet potatoes, peeled and cut into chunks
4 cloves garlic, peeled
¼ cup plus 2 tbs. olive oil, divided
1 large onion, chopped
3 tbs. dried oregano
2 15-oz. cans chopped tomatoes
⅔ cup green lentils
1 bay leaf
1 cinnamon stick
2 medium eggplants, sliced
2 small zucchini, sliced
3 tomatoes, thinly sliced
Preparation
Cook potatoes and garlic in boiling salted water until soft. Drain, and reserve liquid. Mash with 1/4 cup olive oil and 2 cups cooking liquid. Season with salt and pepper.
Heat 2 Tbs. olive oil in saucepan over medium heat. Add onion and oregano, and sauté 5 minutes. Add tomatoes, lentils, bay leaf, cinnamon stick, and 3 cups potato cooking liquid. Cover, reduce heat to medium-low, and simmer 45 minutes, until lentils are tender. Remove bay leaf and cinnamon, and purée lentils in food processor. Season with salt and pepper.
Place eggplant slices on paper-towel-lined baking sheet, and sprinkle with salt. Let stand 30 minutes. Rinse, and pat dry.
Preheat oven to 350˚F. Coat deep baking dish with cooking spray. Spoon 1 1/2 cups lentil mixture into bottom. Top with eggplant, followed by zucchini and tomatoes. Spoon 2 cups lentil mixture over top. Spread half of potatoes over lentil mixture. Top with remaining eggplant, and lentil mixture. Spread remaining potatoes over top, making sure to cover completely. Bake 1 1/2 hours, until top is browned.
From Around The Web
Popular on Diet.st