Vegan Gluten-Free 10-Spice Vegetable Soup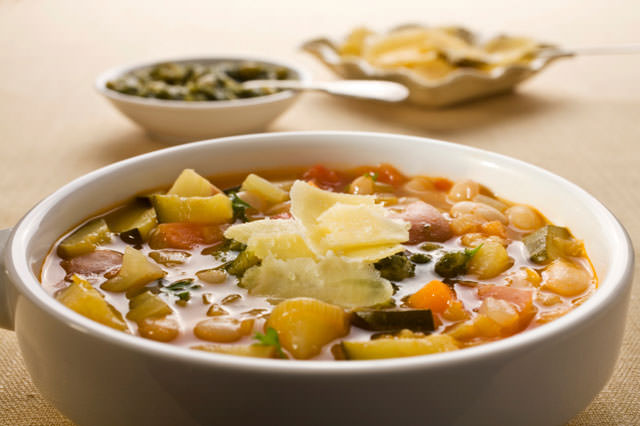 This ultra-healthy and uber delicious soup is great for winter days. What is even more satisfying is that it is also freezer-friendly, so it's an endless joy when you need a quick meal. Prepare your own homemade 10-spice blend and let it melt your taste buds.
Bon Appetite!
Ingredients
3/4 cup raw cashews, soaked for 2 hours at least
6 cups vegetable broth, divided
1 tablespoon extra-virgin olive oil
3 large cloves garlic, minced
1 sweet or yellow onion, diced
3 medium carrots, peeled and chopped
1 red bell pepper, chopped
1 1/2 cups peeled and chopped sweet potato
2 stalks celery, chopped
1 (28-ounce/796-mL) can diced tomatoes, with their
2 bay leaves
1/2 tablespoon Homemade 10-Spice Blend
Fine-grain sea salt and ground black pepper
1 to 2 cups baby spinach or torn kale leaves
1 (15-ounce) can chickpeas or other beans, drained and rinsed
Preparation
Place cashews in a bowl and add enough water to cover. Soak the cashews overnight, or for at least 2 hours. Drain and rinse.
In a blender, combine drained cashews with 1 cup of vegetable broth and blend on the highest speed. Set aside.
In a large pot, heat the oil over medium heat. Add the garlic and onion and sauté for 3 to 5 minutes. Season generously with sea salt.
Add the carrots, bell pepper, potato, celery, and diced tomatoes with their juices, the remaining 5 cups broth, the cashew cream, and 1-1.5 tablespoons of 10-spice blend. Stir well. Bring the mixture to a boil and then reduce the heat to medium-low. Season with salt and black pepper and add the bay leaves.
Simmer the soup, uncovered, for at least 20 minutes, stirring occasionally. Season with salt and black pepper. During the last 5 minutes of cooking, stir in the spinach/kale and drained beans.
To freeze, ladle the soup into containers, cool, secure lid and place in the freezer for up to 6 weeks.
From Around The Web
Popular on Diet.st